Theatre Arts Students Learn from Guest Speaker David Grindle
October 14, 2021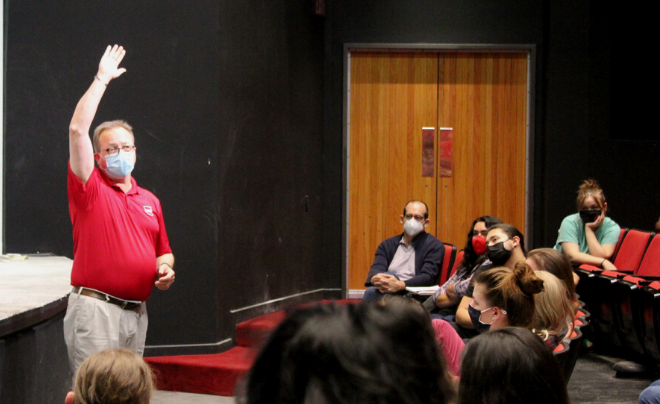 Students in UIW's Theatre Arts practicum class were invited to attend a lecture by David Grindle, executive director of the United States Institute of Theatre Technology (USITT) on Oct. 8. USITT was founded in 1960 as an organization to promote dialogue, research, and learning among practitioners of theatre design and technology. It has since grown to include members at all levels of their careers and has embraced the new technologies being used in entertainment. USITT is now the leader in life-long learning opportunities for the entertainment design and technology industry.
Grindle gave a workshop on communication and hosted a roundtable discussion with theatre students who have a specific interest in management in the entertainment industry.
"Mr. Grindle was extremely informative today," said sophomore Theatre Arts major Tyler Lemley. "He talked a lot about the effectiveness of communication among theater practitioners. I think that's super important because a lot of the time things can get very lost in translation with artists. Our communication styles are very different amongst each other and so I think trying to find a collective language and then being as expressive as we can with the words we use, is very effective especially on a production team."
"I learned that there are so many more components to technical theatre than I could ever imagine," added Skylar Burnett, sophomore Theatre Arts major. "There are so many different ways of communication, and certain conflicts that interfere with communication. There are visual learners and there are oral learners, and some people are in between. So that really is a big component in technical theatre and theater in general."
Students in the Theatre Arts class participated in Grindle's workshop to begin the class. Following the presentation, the class's management students met with Grindle for a free-form Q&A session. Students noted the importance of opportunities to learn from and interact with prominent members of their chosen field.
"A lot of times, students work only with the people around us in the University," said Matt Scrogum, sophomore Theatre Arts major. "There are a lot of students that don't really have the money or the opportunity to get out and find more people to talk to in different areas especially from something like USITT. It's really nice to have somebody come in, especially an executive, to talk to us, because not a lot of people would get the opportunity to travel to the conference and speak with a lot of people. Having guest speakers allows us to see into a bigger world that we haven't seen yet."
"Guest speakers know more than we could possibly know, because they have the experience within the field," added Colbee Dickson, junior Theatre Arts major. "We're just learning the theory of it, whereas they have been doing it actively and are thriving in that environment. Hearing their experiences and what worked for them, it might not necessarily work for us, but it also shows us that it's possible to be very successful within this world [of theatre], where a lot of times people tell you that you can't."
Grindle has extensive experience stage managing for opera companies across the country and has worked as a production manager in higher education, managing the theatre department at Indiana University Bloomington (IU) for nearly nine years. He spent three years as a production stage manager for the Atlanta Opera as well. Grindle has been the executive director of the USITT since 2011.
Grindle earned a bachelor's degree in Music from Berry College in 1993 before obtaining his master's in opera directing from IU.