Service Spotlight: A Q&A with Nailah Landon
October 21, 2021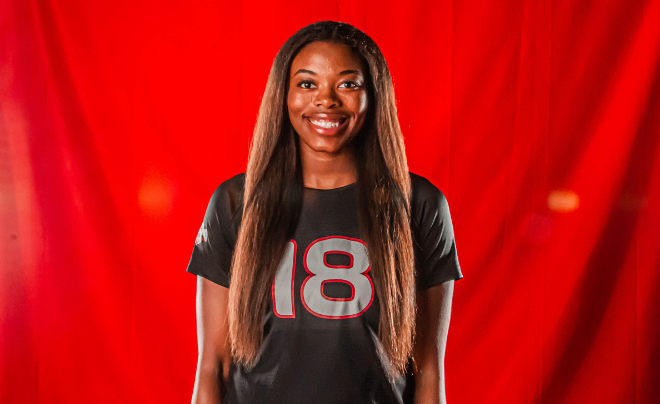 Nailah Landon is a junior Media Studies in Public Relations and Advertising major. A member of the UIW volleyball program, Landon is very involved on campus, making time to volunteer on a regular basis despite her busy schedule.
We caught up with Landon this week to discuss this semester's service opportunities, why service is important to her, and more.
Q: What service opportunities have you participated in this semester?
A: Throughout this semester, I have participated in many service opportunities. Most of my service opportunities, I have completed with my volleyball team. I wrote letters to elementary students to start off their school year through our Dear Future College Graduate initiative. This was very wholesome because the elementary students responded to our letters and explained how we impacted them and that we motivated them by sending a letter.
I also worked UIW women's soccer games a couple of times and it was fun to be able to support other student-athletes and help them with shagging balls or other little things. The most recent service project I participated in was the Virtual Adopt a Classroom project, and it was cool to talk to elementary students and teach them about kindness. After doing this project, it made me realize the impact we have on others and how others look up to us.
Q: Why is service important to you?
A: The act of giving is important to me because it teaches many life lessons. While I am grateful to be able to attend a University and be an athlete, it is my job to give back to others. Whether it be giving candy, my time, teaching skills, or even talking to others, I believe any act of kindness is important. The contributions many people give are above and beyond, and we don't realize it until we have done it ourselves. Giving back to others makes me realize the privileges we have, and that with that privilege we can use our voices and actions to make someone's day and help them.
Q: UIW places a heavy emphasis on service. Was that a contributing factor in your selection of the University?
A: UIW is a faith-driven university that gives back in all the ways it can. That was very important to me because coming from Chicago, there are many people who don't have enough. Because of that, it has allowed me to enjoy giving back to the community. Service was important to me in choosing a university because of the contributions it gives to communities far and near.
Q: What are your future plans for service, both short term and long term?
A: I strive to continue to give back to others and attend more service events. I hope to commit more of my time to service this school year, whether it be hands on or virtually.
Q: What has been your favorite service project and why?
A: I have done many service events from last year until now. I have enjoyed all of them greatly. I would say my favorite at this very moment was Adopt a Classroom. This service project was very fun and a hands-on experience virtually. As a team, we picked an elementary class for kindness week and talked about words that are associated with kindness.