Service Spotlight: Keeley Ayala's Passion for Helping Others
October 14, 2021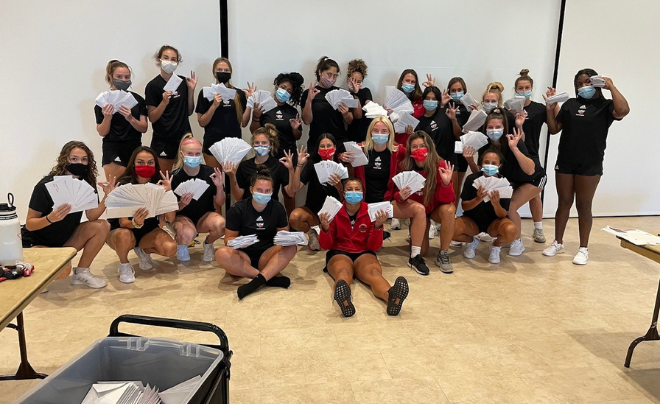 Keeley Ayala, a senior Communications in Multimedia major and a member of the UIW women's soccer team, did not initially choose UIW because of its heavy emphasis on service, but throughout her time at the corner of Broadway and Hildebrand, she's learned the importance of giving back.
"Now that I am a senior here and have done many hours of community service, it has helped me grow as a person as well as connect with people all around the community," said Ayala. "I'm extremely grateful that service is implemented so heavily at UIW because service not only helps those around you, but it teaches you many life lessons as well as gives you skills that you wouldn't have known if service wasn't heavily implemented."
Over the past three years, Ayala has helped with numerous service projects. This semester alone, she has already participated in three service events. During her first event, she worked with other student-athletes to stuff and decorate envelopes for the Dear Future College Graduate initiative hosted by UIW Athletics. The letters were sent to elementary schools to generate excitement about college and their futures. She also spent participated in the annual Meet the Mission initiative, helping at the San Antonio Seton home, an organization that helps young pregnant women escape abuse and neglect.
Most recently, she assisted the UIW Student-Athlete Advisory Committee in spreading awareness about domestic violence. The group had tables set up at the UIW Westgate Circle and handed out flyers with information about resources that are available around San Antonio, as well as a flyer with conversation starters for those who wanted to help a friend but were not sure where to start. They also had a positivity board for people to write encouraging notes. Ayala is proud of each volunteer experience, but this last initiative has been her favorite thus far.
"Spreading awareness for domestic violence was probably my favorite service project because it is a very important topic that I think needs to be talked about more," said Ayala. "We were able to give out resources which I think will be very helpful to people, along with the conversation starters. Many people want to help, but don't know where to start, so I thought the flyers were great. The positivity board I think brought lots of smiles to people's faces, and I enjoyed reading what people wrote."
Ayala has found a higher sense of purpose through giving back and plans to continue volunteering. She wants to keep helping those in need as much as possible, both in the short and the long term.
"Service is important to me because I have a passion for helping others and seeing a smile on people's faces," said Ayala. "When I'm able to lend a helping hand, it gives me a fulfilled feeling. Being of service to others allows me to connect with people as well as help the community where it's needed."