Q&A Spotlight: Dr. Robyn Phillips-Madson
October 14, 2021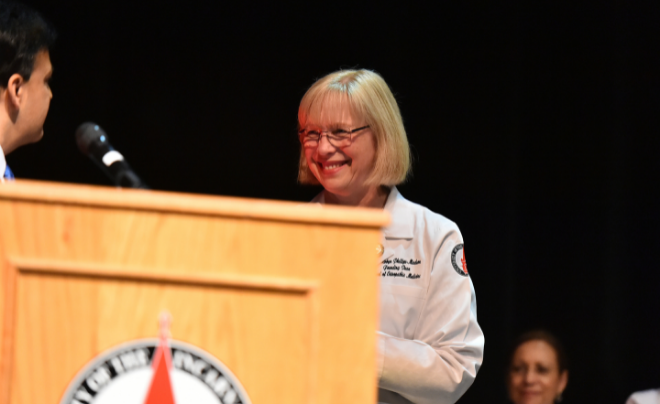 Dr. Robyn Phillips-Madson, founding dean and professor of Family Medicine at the UIW School of Osteopathic Medicine (UIWSOM), was the recipient of this year's Servant of Christ award, given by the San Antonio Christian Medical & Dental Association. Madson will be honored at the Association's 2021 fall banquet on Oct. 19.
After leading UIWSOM to full accreditation and seeing its inaugural class successfully complete the program, Phillips-Madson is retiring from UIW on May 31, 2022. In an announcement to the community, UIW President Dr. Thomas Evans said, "Simply stated, UIWSOM is what it is today because of Dr. Robyn Phillips-Madson. As founding dean, she helped lay the foundation for this outstanding school of osteopathic medicine and set the standard for excellence for which UIWSOM has come to be known. By instilling our Mission in the hearts and minds of learners, she has ensured that UIWSOM-trained osteopathic physicians are, and will be, as compassionate as they are skilled, and ready to make deep impacts on the lives of those they will serve."
This week, we caught up Phillips-Madson to discuss her award, what initially drew her to UIW, and her thoughts as she prepares for retirement.
Q: How does it feel to be receiving the Servant of Christ Award?
A: I'm deeply humbled to be recognized for this award. Everything I've done is only by the Grace of God, and I give all glory to Him. He created the charism of the Sisters of Charity of the Incarnate Word, and entrusted it to each one of us at UIW during our appointed time. He brought an amazing team together to create the School of Osteopathic Medicine, and He gives us the energy to show up for duty.
Q: You are the founding dean of UIWSOM. Can you talk about those early days and what drew you to such a huge undertaking?
A: To be a founding dean has been an incredible experience. The more I learned about UIW and the position, the more I was convinced that this was a mission and university I could commit to wholeheartedly. I'd become the dean of another new school during its first year of classes, so I knew what the expectations would be. This was a once in a lifetime opportunity to cast the vision and mission not only in the context of a university focused on loving God and serving people, but also dedicated to a learner-centered, integrated medical education curriculum built on principles of adult learning and social accountability.
Q: What has been your greatest joy in serving at UIW?
A: My greatest joy has been working with and watching the members of the UIWSOM learning community grow, from the learners in our inaugural class and all those who followed them, to the faculty and staff whose dedication to the Mission inspires me every day. Each UIWSOM employee is a very important part of our community and I respect them greatly. Witnessing the growth of the UIWSOM from an idea to a thriving, fully accredited D.O. program with M.B.S. and M.P.H. programs has been very fulfilling, and I can't wait to see what happens next.
Q: Tell us about how you felt during UIWSOM's first graduation last summer.
A: Our inaugural class will always be my first favorite class. Learners who choose to attend a brand new school are pioneers. I appreciated their feedback while they were here, and look forward to their continued feedback as residents and physicians in practice. Some graduates were the inaugural graduates of our Master's in Biomedical Sciences as well, so it was such a blessing to watch them blossom over a period of five years.
Q: You co-founded Reach Beyond Boarders, a non-profit that empowers people and communities internationally. Can you talk a little about the type of work the organization does?
A: Since 2001, a growing band of people with servant hearts have developed relationships and organized, prepared and supported short-term and longer term volunteers working with physicians, dentists and educators in Guatemala and other countries. The teams provide health education, medical, dental and optometric outreach clinics, and children's activities. While the pandemic has temporarily halted international trips, we continue to provide financial and prayer support and look forward to resuming work in the near future.
Q: You are retiring in May 2020. What would you like to say to the UIW community?
A: Words are insufficient to express my gratitude to the many people who welcomed me and my husband to San Antonio and UIW, and supported UIWSOM throughout our start-up years. The energy, resources, patience and people required to launch a new medical school from scratch is unimaginable for those who haven't experienced it. I will carry fond memories in my heart of the precious people I encountered here, and will be forever grateful for their prayers and commitment to the charism of the Sisters of Charity of the Incarnate Word. Praise be the Incarnate Word forever and ever!