Hispanic Heritage Month: Giving back to the San Antonio community and UIW
October 1, 2021
UIW and the San Antonio community are important to Dr. Christopher Alvarado, and he has always wanted to give back to both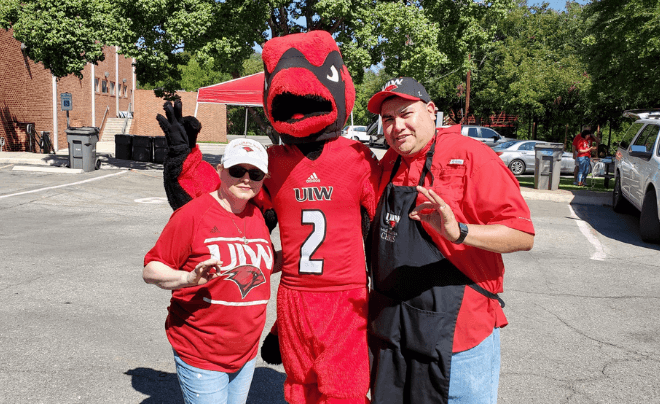 "I always wanted to be a pharmacist, and never wanted to leave San Antonio. I was blessed by the University of the Incarnate Word to attend Pharmacy school in San Antonio."
Dr. Christopher Alvarado, PharmD '10, wanted to be a pharmacist from the time he was a small child, knowing this would be a great way to give back to his community. Growing up in a tight-knit family, with parents who served as mentors, helped fuel his desire to help people.
Now, in the midst of a pandemic, Alvarado's desire is as strong as ever. He serves on UIW's Board of Trustees, is the Alumni Association president and is the president of the Feik School of Pharmacy Alumni. Additionally, he feels a strong calling to do all he can in the fight against COVID.
"My parents always provided in the way of giving back," said Alvarado. "Now, with all the vaccinations and everything going on, I'm glad to give back to the community and to help people understand about the importance of vaccinations."
Alvarado's journey to graduating with a PharmD degree from UIW was not a straight path. After graduating from college, he became a pharmacy technician and was happy, learning from pharmacists and helping his community.
With his desire to stay in San Antonio, he said, it was easy to create excuses for not attending pharmacy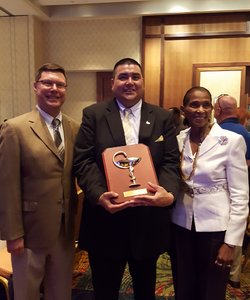 school. But when UIW started a program in town, his wife, his family and even his customers encouraged him to attend. As Alvarado explored UIW's new program, it felt right. He loved that UIW is a Hispanic-Serving Institution with a strong component of faith.
"UIW has a lot of pluses in the way of being faith-based and helping with the Hispanic culture. That's one of the perks there," said Alvarado. "I just can't be more proud to be part of that class, especially in that first class because we had quite a few Hispanics graduating."
Attending a faith-based university with such an emphasis on the Hispanic community was a blessing. Coming from the same culture, Alvarado recognizes that having a cultural awareness and understanding is a key part of being able to help a community.
"From our first year, they talked about cultural awareness," said Alvarado. "If you don't understand it, you can't help the patient. That's what they teach us in school, to understand the culture so that we can get our point through to the customer.
"You can't just tell somebody who grew up in a Hispanic family [where food is a major cultural staple] – to say 'you can just stop [eating those foods],' that's not going to happen. You have to be able to understand that you limit those things, but you know that you're still going to enjoy them, because that's tradition."
In addition to his parents as mentors, Alvarado has numerous professional mentors. Several of his high school friends also went on to become pharmacists, and he remains close to them. Now, he works hard to give back to those aspiring to be pharmacists. He talks to them about more than just the practice, though. He wants them to be successful in life as well.
"I talk to my students, too," said Alvarado. "I definitely take a day to get away from the store and talk to them about real life, and how to work their new income, how to make sure they save away for the future, how to give back to the profession, those type things. I'm always excited to discuss with the students."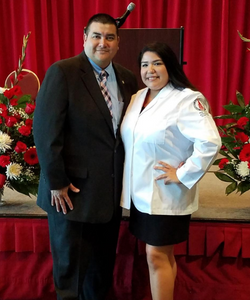 Alvarado, now a pharmacist at H-E-B, has done more than just discuss and mentor. A member of the West Texas Pharmacy Association that places an emphasis on giving scholarships to students, Alvarado decided to start his own scholarship so he could give back to the University who has given him so much. The Alvarado Advocacy Scholarship is given to a student who shows that they know the importance of the political process outside of pharmacy school. Someone who shows an interest in understanding how legislators and senators can change the profession with one signature.
"I definitely look to see who those students are and want to help them with their school, because I was that way," said Alvarado. "I was very involved, and my mentors always showed me that you had to be involved with the profession."
Throughout his time working in the pharmacy profession, Alvarado has seen a lot of changes. He wants to continue to share his wisdom and knowledge with younger generations, and he wants them to understand that it is important for them to give back, too.
"I just keep working as hard as I can to get a few to give back," said Alvarado. "I want them to know the importance of them giving back when they get out. If I have one student that gives back when they get out, I get excited. I give God all the credit for all I can give back to UIW and the profession of pharmacy. "