Hard work, determination and a move across the pond
October 28, 2021
Pratt is at the top of his class in UIW's Physical Therapy program, an achievement that has come through hard work away from his familiar city.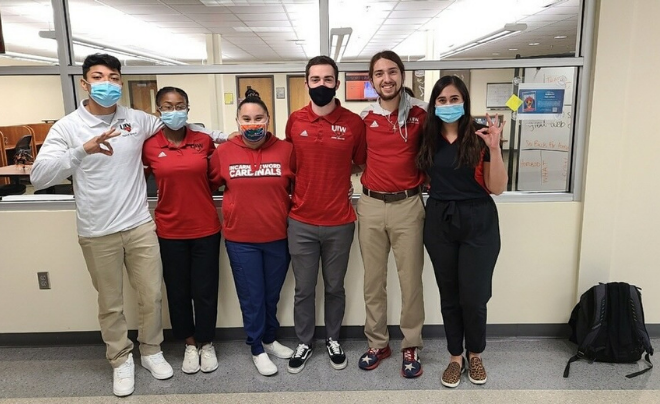 "I just want to be remembered as having good integrity, working hard, and earning everything that has come my way."
Robert Pratt, a second-year Physical Therapy student, is at the top of his cohort and is a student ambassador. He says he has worked hard to get where he is today, and he credits his undergraduate career, where he was a pre-PT major and a student-athlete on the UIW men's soccer team, with his current success.
Pratt, originally from England, played in 49 games for the Cardinals from 2014-2017. When choosing his college, soccer played a major role in his decision to come to the United States. The U.S. would afford him the opportunity to play the sport he loved while getting a degree at the same time. This, he says, is difficult to do in the UK.
"You kind of have to pick and choose between the two, either education or pursuing soccer," said Pratt. "But coming to UIW, I was able to do both. I was able to play at the DI level and I was able to get that degree at a great university as well."
Although moving "across the pond" was a big step as he prepared for his undergraduate degree, selecting Rehabilitative Science as a major was an easy decision for Pratt.
Pratt discovered the field of physical therapy at around 13 years old. He suffered several injuries while playing soccer, and each time, it meant he was not able to play the sport he loved. He decided he wanted to help people who were having the same challenges.
"Not being able to play for a week is enough, but when it went to a month…" said Pratt, trailing off as he remembered the challenging time in his life. "My first interaction [with physical therapists] was them helping me get back to doing what I wanted to do. Science was always my thing in school and sports was my thing outside of school, so PT for me is kind of that perfect merger of the two."
Pratt worked hard as an undergraduate to prepare for a physical therapy program after graduation. While at UIW, he realized that the University's School of Physical Therapy was a great fit. Now, he loves UIW's Problem-Based Learning (PBL) structure, which is a challenging teaching methodology that allows students to learn by confronting and solving problems through a clinical patient case.
"Starting my secondary degree here was based off my experience in undergraduate," said Pratt. "I really enjoyed my time in San Antonio. I really enjoyed my time in classes at Incarnate Word. I just enjoyed the small class sizes, and how that would transition into the PT school."
"I've enjoyed the PBL program we have at the School of Physical Therapy," he continued. "It's very interactive and not very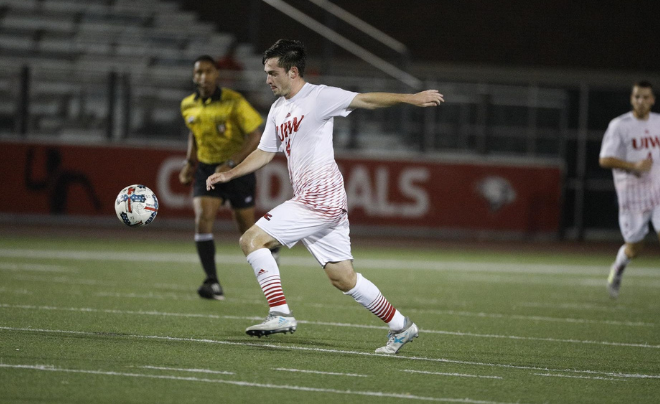 lecture based which is nice, because you can get tired of those. That's all part of the decision as to why I chose UIW for PT school."
Pratt's experience has always been in sports, and that was originally what attracted him to the field of physical therapy. But there is so much more to PT than just sports and orthopedics, he says. Recently, he has been learning more about neurological disorders, which he finds fascinating. Now, he is keeping an open mind for his next steps.
UIW's School of Physical Therapy is teaching Pratt to see more than just the injury a person arrives with, something he says he saw modeled during the time he spent as a rehab technician at ATI Physical Therapy.
"You have to treat the person as a whole, not just that knee injury that they're presenting to you. That was one thing that I always noticed with with the physical therapist at ATI, was how personable he was and how important that was to the patients. You're not just thinking they are coming in for a knee injury and that's it, because there is so much more to it than that."
Now, Pratt is working to give back to the next cohort of UIW Physical Therapy students. Whether he is sharing tips and tricks or just encouraging them as they study for their exams, Pratt understands the challenges they are going through.
"We try to be supportive of those below us because we've been there, and we know the stress of it," said Pratt. "There's a big learning curve, especially for the first years. We always tell people who are coming in, we told the first years this year, to just go full throttle and see where you end up and go from there. Getting used to the workload is a big thing the first year."
Although he wants to mentor and help the younger cohort, Pratt is not looking for recognition, and says there are a lot of people who have launched great careers from UIW, including his friends who are doing just as well as he is. He is just thankful to be where he is today.
"I worked really hard to get the grades I have. It doesn't come as a fluke," said Pratt. "I was lucky to have been given a spot in the graduate program in my first year of applying. I'm just appreciative of what the University has given me."