UIW Students Help Step Up Vaccine Effort
August 27, 2021
"Vaxambassadors" Making a Difference Throughout the Community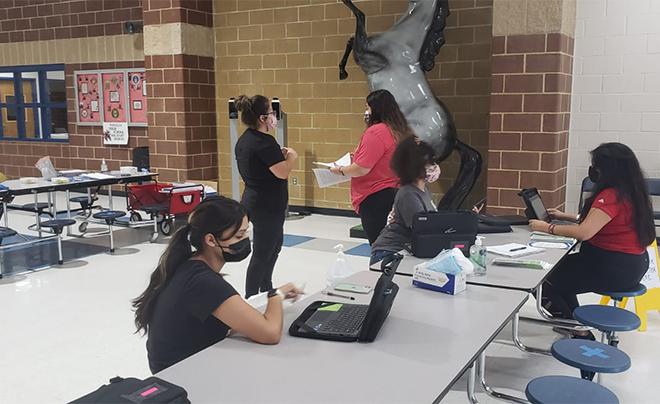 San Antonio – The University of the Incarnate Word (UIW) is proud to announce that Dr. Heather Barton-Weston, assistant professor and public health coordinator in the Ila Faye Miller School of Nursing and Health Professions; Dr. Nile Barnes, assistant professor of Pharmacy; and Dr. Maria Felix-Ortiz, professor and chair of Psychology, obtained $32,000 of stipends from Interfaith Youth Core's (IFYC) Faith in the Vaccine grant for UIW students to serve as "vaxambassadors" who promote vaccination against COVID-19. Funding was provided for 17 students to be trained in conducting learning conversations in relational meetings for health promotion, and to conduct outreach events and organize a clinic.
Over the course of the 14-week period, the team met weekly and collaborated to develop a website, social media sites, and a brochure in English and Spanish. The group also conducted approximately 20 outreach events for a variety of venues in addition to faith communities. Students assisted CommuniCare Health Centers with two COVID-19 vaccination clinics in Southwest San Antonio and North Central San Antonio, helping with tasks at the clinic and knocking on doors in the neighborhood to inform residents of the clinic. Finally, they formed a partnership with the town of Natalia and its independent school district that culminated in a UIW-led vaccination clinic at Natalia High School. 
"The students have learned about how easy it actually is to begin and sustain a civil conversation about COVID and COVID vaccination with people who we expect to be unreceptive," says Felix-Ortiz. "They've learned that conversations can be had without trying to persuade someone to get vaccinated. In fact, those types of learning conversations are actually quite influential without the use of persuasion."
The UIW-Natalia vaccination clinic involved student volunteers from the UIW schools of Osteopathic Medicine, Nursing and Pharmacy, as well as the vaxambassadors who represent UIW Psychology, Community Health Education, Biology, Philosophy, and the International Education and Entrepreneurship graduate program. The team worked diligently on promoting the clinic, visiting businesses to distribute or leave behind the English/Spanish flyers they created, making announcements at local churches, using the school district's social media account, knocking on residents' doors, and working with the local newspaper, the Devine News.
The vaxambassadors and their coordinators provided supplies from their own funds and obtained donations from various UIW departments, including the UIW Ettling Center for Civic Leadership and Sustainability, for the rural community and provided incentives for obtaining COVID-19 and school vaccines. These included free school supplies in a UIW-branded backpack, and a raffle for a bicycle and laptop. The vaxambassadors team and its collaborators donated refreshments, signage, sanitizing supplies, vaccinations, and time for their administration. Vaxambassadors also provided a "fun zone" of various games and coloring pages for children while their parents were vaccinated. The team called people who registered on the website to remind them of the clinic, followed up with calls to check on people on the day after their vaccinations, and called to remind people about their second doses. 
The outcomes were notable. The UIW-Natalia clinic served mostly Latinx residents in rural Natalia. Some adults who brought in their children for the COVID-19 vaccine decided to get the vaccine themselves. Vaxambassadors developed skills in health promotion through conversations with people, using both new and traditional mass media and through social networking. Additionally, vaxambassadors obtained training in research ethics, researched news reports and academic studies, and participated in developing a research proposal. Students documented their experiences and growth through blogs and video, many reflecting on how it was not so difficult to speak to people about the vaccination issue. The most important outcome for vaxambassadors and the communities they served was the experience of being change agents, promoting social change one conversation at a time, and one vaccination at a time. 
"The students have also learned about all aspects of organizing a health promotion effort and running a vaccine clinic," says Felix-Ortiz. "Some have collected great memories of being able to help someone decide to vaccinate, or about a visit to a residence where people thank them for the information and for providing the community access to the vaccines. They've also learned about the power of traditional media in rural communities--they couldn't believe how influential the local newspaper could be.  Personally, I have been impressed by student commitment to this effort as some have become ill with COVID despite being vaccinated, and they have eagerly returned to the project to continue promoting COVID vaccination."
As a result of these successes, Natalia ISD is partnering with UIW and welcoming interns for a new Interprofessional Health Professions Internship that is being developed. IFYC has offered stipends for another year, as well as funding for supplies.