UIW School of Osteopathic Medicine set to Launch First Mobile Medical Clinic
July 28, 2021
Partnership with Moody Foundation to bring Medical Care to the Community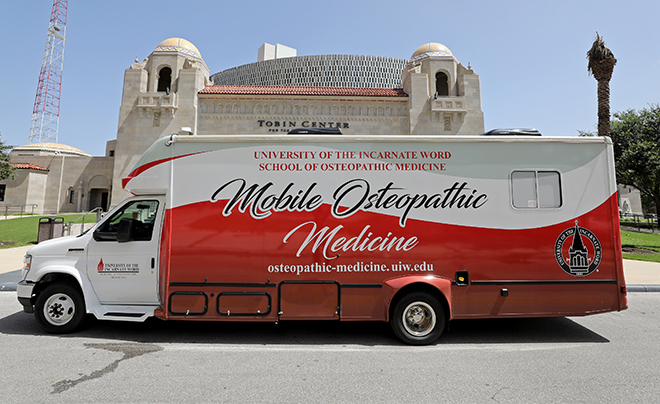 San Antonio – With the support of the Moody Foundation, the University of the Incarnate Word School of Osteopathic Medicine (UIWSOM) has launched a mobile medical clinic called the Mobile Osteopathic Medicine unit (MOM). The 29-foot vehicle will allow medical students and faculty to deliver services to the community including osteopathic primary care, immunizations, health screenings and more. The MOM unit will also act as a training ground for the healthcare workers of tomorrow.
The mobile unit was dedicated during a ceremony on July 24, 2021 and named after the late Sam Wages, who worked for UIW for nearly 19 years. Wages was the Director of Procurement and Business Support Services and oversaw the shipping and receiving, postal operations, purchasing and vehicle services divisions.
"This mobile unit is truly a blessing and we would like to thank the Moody Foundation for making it possible," says Dr. Robyn Phillips-Madson, dean of the UIW School of Osteopathic Medicine. "It is fitting that we name the unit after the late Sam Wages who, as the director of transportation at UIW, had a unique understanding of the importance of getting our students out into the community to carry the message. I know this mobile unit will allow our medical students to do just that."
Medical students at UIWSOM will use the unit to help provide care to the underserved in Bexar County.
"Osteopathic medical students, and other health professional students, will now be able to take the classroom to the community," says Dr. Hans Bruntmyer, SOM associate professor. "This unique opportunity will help cultivate, not only empathetic and compassionate providers, but also cohesive interprofessional health teams. We feel this vehicle is helping to fulfill the call of Bishop DuBois, 'Our Lord Jesus Christ, suffering in the persons of a multitude of sick and infirm of every kind, seeks relief at your hands'."
The $153,000 vehicle was made possible by a generous donation from the Moody Foundation. Based in Galveston, for more than 75 years, the Moody Foundation has funded projects and programs that better communities in the state of Texas.