UIW Appoints New Key Leadership Positions
July 12, 2021
Two New Vice Presidents Will Help Lead University to Continued Success
San Antonio – July 12, 2021 – The University of the Incarnate Word (UIW) is proud to announce that it has selected John Bury and Rick Kimbrough to fill key leadership positions. Bury has been selected as the new vice president for Strategy and Enrollment. Kimbrough joins UIW as the new vice president for External Affairs.
"Our commitment to realizing UIW's vision and strategic priorities made it imperative to find established, veteran leaders in higher education for these two significant roles," says Dr. Thomas M. Evans, UIW president. "Not only do John Bury and Rick Kimbrough bring a wealth of knowledge to their respective positions, they also have a true understanding of our Mission and an appreciation for the kind of transformational education we provide at UIW. I look forward to seeing how their efforts will impact the lives of everyone across our University."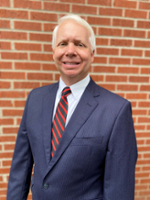 John M. Bury was most recently the Chief Financial Officer and corporate treasurer at the University of Tulsa. There he oversaw all financial and physical operations, which includes more than 200 staff members across several offices and included oversight of budgeting and finances in the athletic department. Over his 20-plus years in higher education leadership, Bury has managed operations of academic and student support, chaired Tulsa's Enrollment Management Council and held leadership positions in institutional research and graduate student enrollment. He has also helped direct strategic planning efforts, identifying goals, working with key leaders to define Key Performance Indicators and developing dashboards to track progress. At UIW, Bury will oversee Enrollment, Strategic Planning and the Athletics Department.
"John's vast experience leading operations across higher education and his investment in elevating the lives of students and their families speak to his inimitable skill set and strong character. I am certain that his wealth of knowledge and efforts will be boons to UIW," says Evans.
"First, I would like to thank Dr. Evans and everyone involved in the process that has brought me to the University of the Incarnate Word," says Bury. "This is the beginning of a new chapter, and I am looking forward to being a part of a university with a long tradition of service and a commitment to advancing the social mobility of its students while also preparing them to create positive change in the world."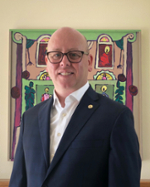 Rick Kimbrough was most recently vice president for University Advancement at Pacific University in Oregon. Kimbrough brings more than 20 years of development leadership in higher and private education leading successful comprehensive and capital campaigns. During his tenure as vice president for University Advancement at St. Mary's University, he oversaw the university's largest campaign, a $130 million initiative, which he helped reach and exceed by $21 million by the time of his departure. As Chief Development Officer of the Mayo Clinic Health System in Southwest Minnesota, he was a member of the senior management team for the six-hospital, 28-clinic system, led fundraising and improved company culture to achieve higher gift revenue. Kimbrough has deep ties to the Incarnate Word community and to the Sisters of Charity of the Incarnate Word. His mother, Judy Bel, taught at Incarnate Word High School for more than 20 years. His father, John Bel, served as president of The Children's Hospital of San Antonio Foundation and Chief Development Officer for CHRISTUS Santa Rosa Health. Kimbrough has three sisters who are Incarnate Word High School alumnae, two are UIW alumnae, and he attended St. Anthony Catholic High School. In his new post at UIW, Kimbrough will oversee the offices of Development, Communications and Brand Marketing, and Alumni and Parent Relations.

"I deeply value Catholic education and the difference it makes in the lives of students and in communities," says Kimbrough. "This is an incredible opportunity to support the UIW Mission and, by extension, the work of the Sisters of Charity of the Incarnate Word throughout South Texas. I look forward to contributing to new possibilities at such an important institution and working to create new opportunities for students to be educated in the UIW Catholic tradition."

"With his deep connection to our Incarnate Word community and extensive expertise fueling institutional advancement, Rick brings with him a rare combination of qualities. He is an ideal fit for UIW today and can help us advance toward our vision for tomorrow," says Evans.

The UIW community is eager to welcome both Bury and Kimbrough as they begin their tenures on August 1.