UIW Dean Named to National Leadership Fellowship
August 18, 2020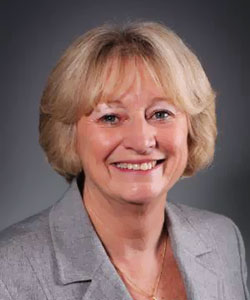 San Antonio – The University of the Incarnate Word (UIW) is proud to announce that Dr. Denise Staudt, dean of the Dreeben School of Education, has been named an Impact Academy fellow for the Deans for Impact organization. Staudt joins a cohort of leaders chosen for their commitment to improving educator preparation. The year-long Impact Academy fellowship empowers dean-level leaders with skills, knowledge and strategies to pursue instructional excellence.
"I am honored and thrilled to receive this fellowship from Deans for Impact," says Staudt. "Being part of the 2020 Impact Academy Fellows cohort will allow me the opportunity to strengthen my leadership skills and vision to help transform our educator preparation program to meet future challenges. This fellowship provides opportunities for me to network on a national level with education deans committed to the improvement of educator preparation."
"We believe that transformative leadership is the cornerstone of an educator-preparation program that embraces an improvement mentality and prioritizes candidate learning above all else," said Benjamin Riley, founder and executive director of Deans for Impact. "We're thrilled to welcome 17 such leaders into the Impact Academy fellowship and are excited to support these leaders as they embark on efforts to improve their own educator-preparation programs and the field more broadly."
According to Deans for Impact, educator-preparation programs face unprecedented challenges as they prepare the next generation of teachers in uncertain environments and seek to address educational inequities revealed and exacerbated by COVID-19. More than ever, the field needs leaders who can foster individual and organizational learning and ensure that all children have access to rigorous, content-rich instruction – whether in-person or online. Founded in 2015, Deans for Impact is a national nonprofit organization dedicated to ensuring that every child is taught by a well-prepared teacher.
Staudt has been in the field of education for over 35 years. She currently serves as the dean of the Dreeben School of Education. Prior to a career in higher education, Dr. Staudt served as a kindergarten teacher, a junior high English teacher, a high school librarian and an elementary school librarian. In addition to her degrees, she holds credentials in English as a Second Language, All Level Learning Resource Specialist, Mid-Management Administrator and Reading Specialist. Staudt is recognized at the local, state, and national levels for her work in teacher education.