UIW Dean Named Fulbright Scholar
November 10, 2020
Dr. Timothy Wingert Receives Honor for Second Time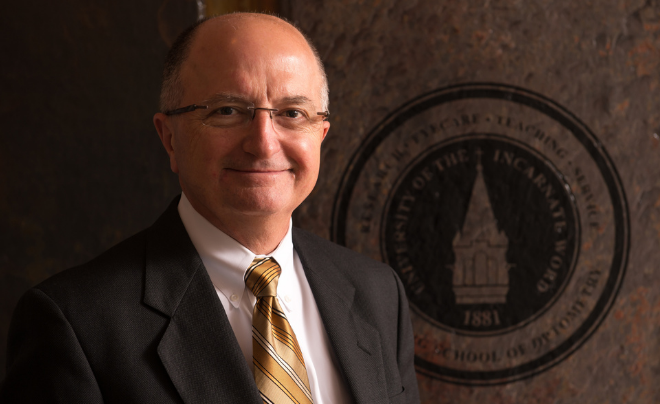 San Antonio – The University of the Incarnate Word (UIW) is proud to announce that Dr. Timothy Wingert, dean of the Rosenberg School of Optometry, has been named a Fulbright Scholar to Poland by the J. William Fulbright Foreign Scholarship Board which is overseen by the United States Department of State's Bureau of Educational and Cultural Affairs.
As part of this award, Wingert will teach students in the program and work with faculty and administration at the Poznan University of Medical Sciences in Poland regarding curriculum and academic programming.
"This project will allow me to experience the approaches of other health care professions and the approach of the same profession in another country and health care system," says Wingert. "That experience will give me another prospective to add to the discussion in enhancing interprofessional education at UIW and beyond."
The Fulbright U.S. Scholar Program offers teaching, research and combination teaching/research awards in more than 125 countries. Opportunities are available for college and university faculty and administrators as well as for professionals, artists, journalists, scientists, lawyers, independent scholars and many others. Fulbright is the most widely recognized and prestigious international exchange program in the world, supported for more than half a century by the American people through an annual appropriation from the U.S. Congress and by people of partner nations. The program actively seeks out individuals of achievement and potential who rep[resent the full diversity of their respective societies and selects nominees through open, merit-based competitions.
This is Wingert's second Fulbright Scholar award to Poland in addition to his previous Fulbright Specialist award to Ghana.