Harp and Shamrock Society Honors UIW Professor
March 3, 2020
Dr. Gerald Mulvey receives Cusack Family Award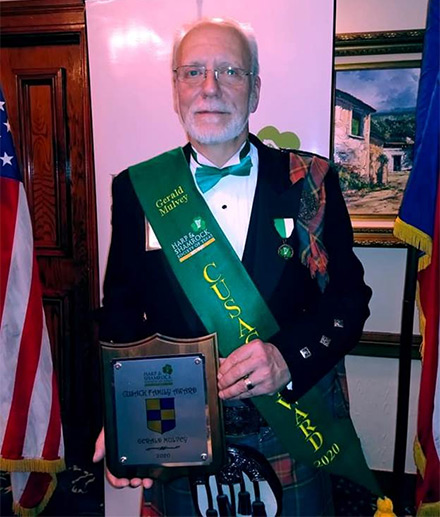 San Antonio – The Harp and Shamrock Society of Texas has honored University of the Incarnate Word (UIW) Associate Professor Dr. Gerald Mulvey with its Cusack Family Award. The presentation was made to Dr. Mulvey and fellow honoree Elvira Barrera during the organization's annual awards banquet on Feb. 23, 2020.
The Harp and Shamrock Society was founded to involve persons of Irish nationality or heritage to do honor to the land of their forefathers. The Cusack Family Award is presented annually to recognize a member or members who have been outstanding volunteer workers on behalf of the Society. The award is given in honor of Jim and Ann Cusack, and Howard and Arline Cusack, commemorating their unselfish work with and for the Society. The recipients are determined by a committee comprised of the past honorees.
"I feel deeply honored that fellow members of the Society felt that I should have this recognition for my service," says Mulvey, UIW associate professor and department chair of Meteorology. "The Harp and Shamrock Society is a great organization." 
"This award is affectionately called the 'Worker-Bee Award' among our members, and Gerry certainly fits that description," says Elissa O'Brien, president of the Harp and Shamrock Society of Texas. "He gives many hours in service to the Harp and Shamrock Society each year, volunteering with our St. Patrick's Day Festival, Alamo Wreath Laying, and 5K Run. He serves on many of our committees and does valuable research regarding the history of the Irish in San Antonio."
In 2019, Mulvey was awarded a scholarship to continue his research and publications on the Irish in San Antonio. He has recently been studying the Avoca, an area situated on the border of Northern San Antonio and Alamo Heights, founded by an Irishman in the 1830s. Mulvey says he hopes to have a manuscript on the topic ready for peer review soon.
The Harp and Shamrock Society also honored Elvira Barrera with the same award. Barrera was recognized for her long-time commitment and volunteer work with the Society. For more information on the society go to Harpandshamrock.org.