Contemporary Art Month Comes to UIW with "Songs of Continuity"
January 31, 2020
Recent Works by Danville Chadbourne with Special Musical Performance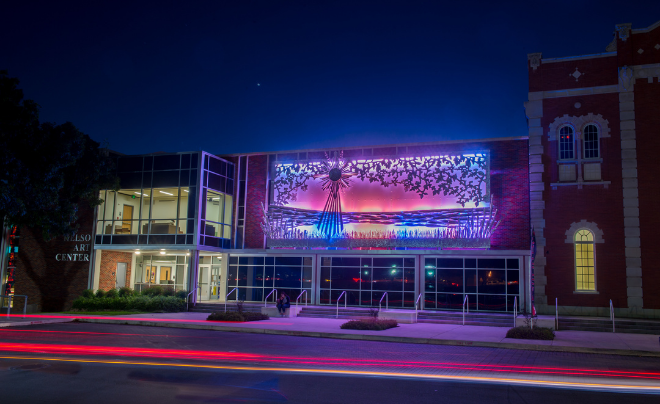 San Antonio – In conjunction with Contemporary Art Month, the Art Department of University of the Incarnate Word (UIW) presents a solo exhibition by San Antonio sculptor Danville Chadbourne featuring over 50 recent and new works. The exhibition includes paintings, wall-oriented relief works, freestanding sculptures, suspended works, and smaller-scale sculptures in clay and wood. An opening reception for "Songs of Continuity" will be held on Friday, Feb. 21, 2020. It will take place from 6 to 8 p.m. in the Kelso Art Center/Semmes and Condos Galleries on the Broadway Campus of UIW. The exhibit is on display until Friday, March 20, 2020.
As part of the exhibition, a special performance by the Agarita Chamber Players, "Synergy: Music and Sculpture" will take place on March 7 in the UIW Concert Hall and galleries, with repertoire selected in response to the sculptures. Artist reception to follow the concert on March 7, 2020. The exhibition and concert are free and open to the public.
Exploring the range of gestural possibilities, Chadbourne's handling of grounded, organic clay forms is balanced by an intuitive sense of the dynamic tension, movement, and juxtaposition of found wooden elements. Similarly, Chadbourne's use of bold color and iconic, abstract symbol imagery spans strong textures and polished surfaces, in both sculptural and flat contexts. Drawing on forms, colors, gestures, and metaphorical concepts from nearly 50 years of art making, Chadbourne continues to create works that seems at once new and ancient. "Songs of Continuity" offers a glimpse of the aesthetic consistency with which Chadbourne views the world.
Danville Chadbourne was born in Bryan, Texas in 1949. Primarily a sculptor in clay and wood, Chadbourne works in a range of materials and in both two- and three-dimensional formats. Over the years he has created a complex body of work unified by a primal iconography and artifact-like quality emerging from a very personal and consistent formal, aesthetic and philosophical sense. He has lived in San Antonio, Texas since 1979.