Award-Winning Pharmacy Professor Adapts to New Teaching Normal
April 28, 2020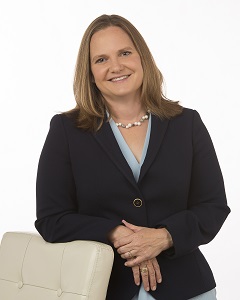 Dr. Lila LaGrange has received several notable teaching awards, including the Provost's Legacy Teaching Award in 2010, and the Feik School of Pharmacy Teacher of the Year Award (chosen by students) in 2007, 2011 and 2017. She has been nominated multiple times for the UIW Presidential Teaching Award.
Teaching is obviously what LaGrange, a professor of Pharmaceutical Sciences, does very well. But teaching during the time of a pandemic has presented a new, and unexpected, challenge for the experienced professor. One she is meeting by, once again, putting students first.
"During this rushed transition to online learning, it has been hard to not feel overwhelmed," says LaGrange.
Her teaching philosophy centers around the belief that her role as a teacher is to create a student-centered environment that actively involves students in the learning process. She believes in engaging students by building a strong teacher-student relationship and creating an environment where students think critically, work in groups and find individual fulfillment in their progress and achievements. That philosophy has not changed during this time of distance learning, but LaGrange has adapted.

"Two challenges of remote learning are keeping students engaged and accountable," says LaGrange. "Given that students were already familiar with the course structure and activities, what was most important during the transition was finding ways to keep teaching and learning from becoming passive and to keep students invested in their learning.  What has worked best for me is tracking students' performance and then following up with them individually, as this allows me to offer support almost immediately and to also let them know they are not alone in this process. I have found that students have appreciated these interactions and many have come to expect me to touch base with them, especially if they are falling behind."
LaGrange has become increasingly involved in the area of the Scholarship of Teaching and Learning, specifically focusing on education-type projects that improve the learning environment for students. She also involves students in scholarship by mentoring them through academic writing projects. LaGrange's biomedical research interest is on factors that influence smooth muscle contractility.  She serves on numerous FSOP committees, including Assessment, Professional Conduct, Faculty Development, and Accreditation Self-Study, of which she is currently chair. She has served as co-chair of the UIW Employee Campaign since 2013, and recently completed a three-year term as chair of the UIW Graduate Council. And while all that experience pays dividends during this challenging time, LaGrange is already looking forward to the benefits of the lessons learned today.
"Receiving feedback from students on what is and is not working is especially important right now," says LaGrange. "I have asked students to think about what new things we are currently doing that they would like to see become part of our face-to-face classes. Based on their suggestions, two things that l incorporate in my teaching once we return to the classroom are to expand office hours to include virtual options and to open a chat room, such as Class Chat, during class sessions to give students the option to interact with me and each other in real time. I have found that a significant number of students who would not normally ask questions or respond to mine in class have been doing so now using the Zoom chat option, and I can see how this has promoted discussion and interaction during the online class session."
It's that kind of forward-thinking that keeps the accolades coming for LaGrange. She was recently chosen as the UIW nominee for the Piper Professor Award. The Piper Professor Program, begun in 1958, provides 10 awards annually of $5000 each to professors for superior teaching at the college level. Selection is made from nominations submitted by each public or private college or university in Texas. UIW chooses one faculty member each year as the university's Piper Professor nominee. It is a rare recognition but not the focus of LaGrange's work. For her the true reward remains with the success of her students and she has a message for them.
"So much of our focus is on the here and now, which can easily overshadow our ability to appreciate the great things that have happened this academic year," she says. "Students, take time to reflect on your achievements and resist the temptation to let the current situation minimize your accomplishments."