UIW's 2019 Light the Way Holiday Festival a Huge Success
December 2, 2019
Thousands enjoyed lights, food and holiday fun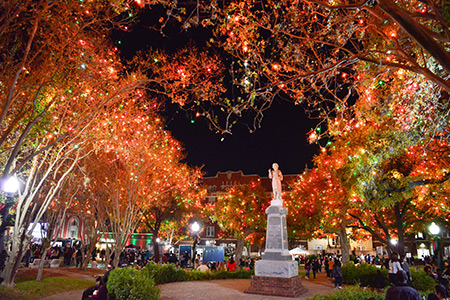 San Antonio (Nov. 25, 2019) – UIW's annual celebration, Light the Way Holiday Festival, took place on Saturday, Nov. 23. The weekend event, sponsored by H-E-B, marked the 33rd year for the annual Christmas celebration on the Broadway campus of the University of the Incarnate Word. The festival kicked off at 3 p.m., providing six hours of holiday fun before the traditional 9 p.m. fireworks finale.
The Sisters of Charity of the Incarnate Word were this year's guests of honor in celebration of the 150th anniversary of their founding. Sisters of the congregation provided the invocation and flipped the iconic red light switch, illuminating the campus with a million twinkling lights.
"One of the reasons this night is so special to us is that community members throughout UIW come together to celebrate the reason for the season," UIW President Dr. Thomas Evans explained at the evening ceremony. "It is an event that has become a tradition, not only for our Incarnate Word community, but for families throughout the city."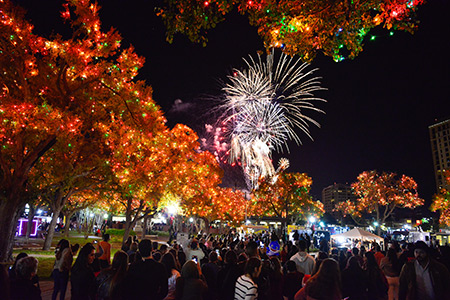 At 6:15 p.m., families and UIW friends surrounded the Light the Way event stage for the 10-second countdown to the illumination of the UIW campus, led by KSAT 12's Steve Spriester and members of the Sisters of Charity of the Incarnate Word. The festivities then continued with live performances throughout the evening and until the big finale.
In addition to Christmas lights, attendees enjoyed the Kids' Corner, where children took selfies with Santa, decorated cookies with Bird Bakery, rode a kiddie train and took part in activities brought to us by The DoSeum, San Antonio Plastic Bricks and Andretti Indoor Karting & Games. The Sisters of Charity of the Incarnate Word also made a special appearance at the Kids' Corner, reading the story of Christmas to the event's youngest guests.
More than 50 vendors lined the Holiday Shoppe, giving guests a jump-start on their Christmas shopping. Local vendors featured a variety of handmade crafts, special gifts and fun, holiday-themed products. Thanks to the San Antonio Food Truck Association Food Truck Yard, Light the Way attendees enjoyed treats from 15 food and dessert trucks. Thanks to our friends at Sodexo, guests also enjoyed hot cocoa as they strolled through campus.
UIW students, alumni and parents were treated to an alumni exclusive event in the UIW Student Engagement Center which included a wine and cheese gathering sponsored by Spectrum Reach.
The lights at UIW will be lit every evening at dusk now through the Feast of the Epiphany on Monday, Jan. 6, 2020. Members of the San Antonio community are invited to campus during this time to enjoy the stunning views.