UIW Welcomes New Students to the Nest
November 22, 2019
Peter's Triplets Surprised with News of UIW Scholarships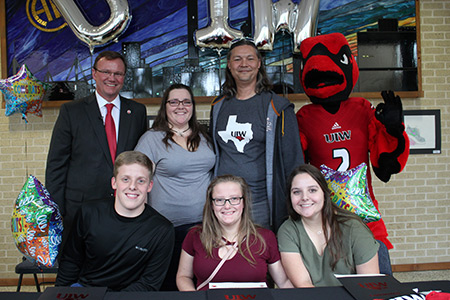 San Antonio – Nov. 22, 2019 – Thinking they were headed to hear from a motivational speaker at a school assembly, Alamo Heights High School seniors Melanie, Matthew and Madelyn Peters were shocked that their classmates were actually gathered for them. Surrounded by their school community of friends, faculty and family, the Peters triplets were welcomed by UIW President Dr. Thomas Evans with news that all three had been conditionally accepted to UIW for the Fall 2020 semester.
When Melanie, Matthew and Madelyn Peters' school counselor Paul Harris realized that the triplets were having a difficult year, and would likely be heading in different directions after high school, he reached out to UIW President Dr. Thomas Evans to see what could be done to keep the students close to home and to their mom as she continues to battle health issues. The three teens have had to endure more than most during their high school years, with Melanie requiring 24 surgeries in just 6 months to treat scoliosis, and their mother, Karryn, suffering two debilitating strokes.
The family was surprised on Thursday, Nov. 21 by Dr. Evans and Red the Cardinal with the opportunity to attend UIW. This welcome news will allow the siblings to remain close to home and attend university together. After any gift aid is applied, UIW will meet the tuition gap, meaning the Peters family will not have to pay any tuition expenses.
"It was apparent that this was a family that we needed to do something for," explained UIW President, Dr. Thomas Evans.
The triplets will still need to meet UIW admissions standards, take the SAT/ACT and fill out the Free Application for Federal Student Aid (FAFSA).
"When I had triplets, I knew it was going to take a village, and all of you are part of that village," said Karryn Peters through tears to the crowd of friends, coaches, teachers and more. Also in attendance to celebrate the big news were the triplets' grandparents Agnes and Robert Barnes, older sibling Blaine Prince, and brother, sister-in-law and nephew, Ryan, Shelby and Greysen Peters.
As part of its strategic priority process, UIW is working to help every student graduate with the lowest possible debt and secure a career that lifts their lives, their families, and their communities. We will inspire our students to live life to its fullest sense, with the genuine abundance of God's love and grace.
If members of the community would like to donate to UIW to support student scholarships, please visit: https://www.uiw.edu/giving/index.html. Prospective donors have the option of selecting an area of interest and are able to make a gift on-line.
For more information, please contact the UIW Development Office at (210) 829-6013.