UIW Students Win First Place in International Entrepreneurship Competition and at UIW Startup Challenge
December 10, 2019
Team Develops New Product to Comfort Pediatric Hospital Patients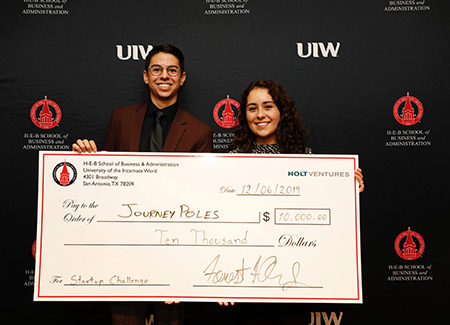 Curitiba, PR, Brazil - December 4, 2019 - A pair of students from the University of the Incarnate Word (UIW) partnered with the UIW Ettling Center for Civic Leadership and Sustainability to travel to the Pontifical Catholic University of the Parana in Curitiba, PR, Brazil from November 9-14, 2019 for the Mission Life VIII International Entrepreneurship Competition: Mental Health. In addition, the two also competed at the UIW Startup Challenge in December, placing first in both competitions.
Yolanda Martinez, a P3 student in the Feik School of Pharmacy, and Noah Silvas, a senior in the School of Math, Science, and Engineering, earned the first-place title for their presentation and production of "Journey Poles." The IV "Journey Poles" developed by Silvas and Martinez were conceived to assist pediatric patients. It was inspired by one of the cancer patients that Silvas was working with in a San Antonio hospital. "Journey Poles" transforms regular hospital IV poles into something colorful and unique to patients. The hope is that patients will find a little comfort in the IV pole rather than a reminder of the sterility of their surroundings.
The Mission Life competition engages undergraduate, graduate, and professional students from different disciplines to join together to create a project that relates to a current issue in society. This year the theme of The Mission Life was mental health awareness.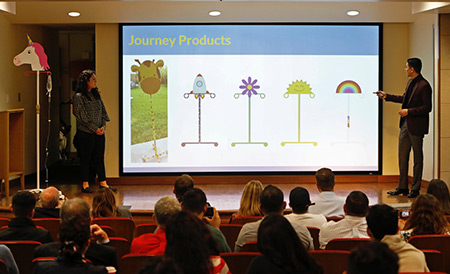 "We are proud of the recognition Noah and Yolanda received as winners of this year's Mission Life VIII international competition," says Dr. Ricardo Gonzalez, director, Ettling Center for Civic Leadership & Sustainability. "Their concept and idea are a great example of how UIW students hope to impact and change the world by helping and supporting those that are in need, just as our founding Sisters of Charity of the Incarnate Word have done. We are hopeful to see "Journey Poles" become a common item found in pediatric hospitals throughout the U.S. in the coming years."
The Mission Life Competition allows students to connect with others globally to share solutions to solve current societal issues. To compete at this level is both a university-wide and international achievement, says Dr. Gonzalez.
In addition, on Friday, Dec. 6, 2019, Silvas and Martinez were chosen among five finalists as the winners of the Startup Challenge with their "Journey Poles" and took home the $10,000 first prize that will be used as seed money for the project. The challenge was held by the H-E-B School of Business and Administration at UIW and sponsored by Holt Ventures.
The Startup Challenge encourages collaboration from UIW students across all disciplines to maximize their skills and talents. The teams also worked with industry mentors from the San Antonio business community to help develop their business ideas.