UIW Recognized as Volunteers of the Year
April 11, 2019
United Way Honors Efforts that Resulted in Over 44,000 Hours of Service
San Antonio – Founded on the principle of service to others, the University of the Incarnate Word (UIW) is the recipient of the United Way's inaugural Higher Education Community Service Impact Award. The award was presented during the United Way Community Service Awards 30th Annual Volunteer Gala held Tuesday, April 9 at the Tobin Center.  The award recognizes a college or university that supports and encourages civic engagement, service-learning, and volunteering as core values. The recipient must demonstrate an institutional commitment to addressing community needs and contribute to the public good through effective campus-community partnerships.
"This award is a wonderful recognition of the efforts made by the students, faculty and staff at the University of the Incarnate Word to live the message and the Mission of UIW every day," says UIW President Dr. Thomas Evans who accepted the award on behalf of UIW. "We are truly humbled to be the first to receive this honor from such a distinguished organization as the United Way, a group that fully understands the importance of service and volunteerism. We want to thank them for the recognition,"  
UIW's December 2018 graduating class of nearly 1,000 professional, doctoral, graduate and undergraduate students completed a total of 44,584 hours of service in the community providing an economic impact totaling $1,100,779 in volunteer service hours.
"UIW community members volunteer all over our city," says Gladys Gonzalez, Executive Director of St. PJ's Children's Home, one of the organizations who endorsed UIW for the award.  "They are at health fairs, provide tutoring, and aid with community gardens.  They respond to emergency needs gathering resources.  They consistently assist our refugee services and they not only help, but also learn the issues and become engaged citizens."
The inaugural Higher Education Community Service Impact Award was one of 14 awards presented at the gala. 
###UIW###
Photo Caption: UIW Recognized as Volunteers of the Year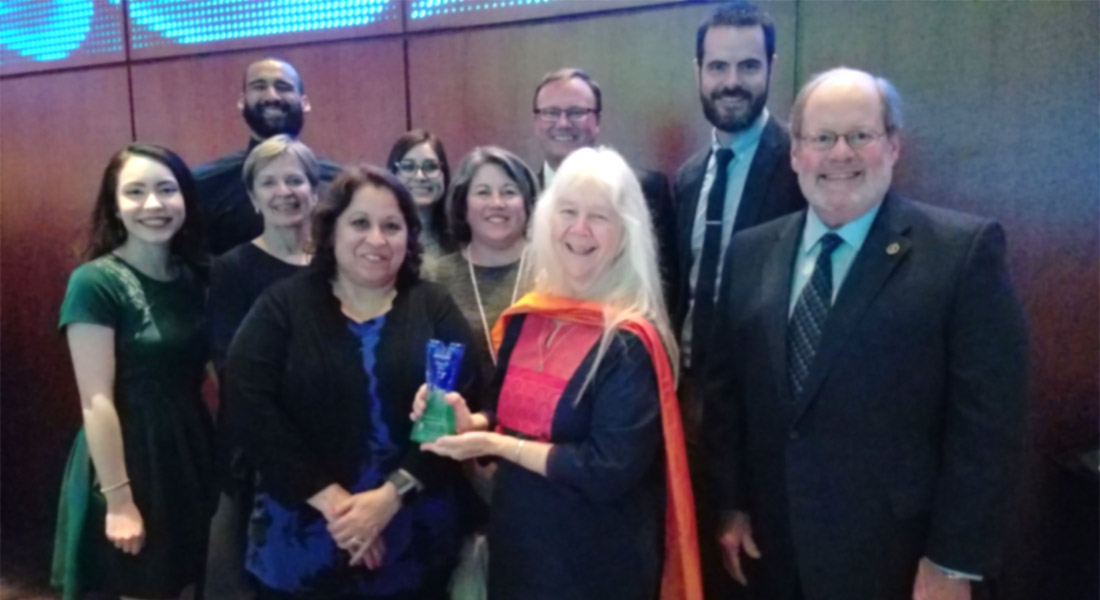 (pictured L – R:  first row: Dr. Sandy Guzman-Foster, Sr. Martha Ann Kirk, Dr. Roger Barnes; second row: Aly Escobar, Dr. Kathi Light, Lisa Evans; third row: Teofilo Reyes, Yesenia Caloca, Dr. Thomas Evans, Dr. Chris Edelman)
MEDIA CONTACT: Michael Valdes, Media and Public Relations Manager, Office of Communications & Brand Marketing, (210) 829-6001 or michael.valdes@uiwtx.edu