UIW BSN Students Study Abroad in Paraguay
October 4, 2019
Senior Undergraduate Nursing Students Gain Global Health Perspectives in First-Time UIW Venture
San Antonio, Oct. 4, 2019- For the first time, in the spirit of the international vision and one of the founding Missions of the Sisters of Charity of the Incarnate Word, a group from the University of the Incarnate Word's (UIW) Ila Maye Miller School of Nursing & Health Professions travelled to Paraguay. Over the summer, UIW nursing students, Alondra Guevra and Jamie Gutierrez, along with the traditional BSN program director, Dr. Kathleen Tilton travelled to Obligado, Paraguay to study with aspiring Paraguayan health professionals. The group partnered with the Instituto Superior de Ciencias de la Salud San Patricio to explore Paraguayan healthcare and to participate in classes and clinical learning activities.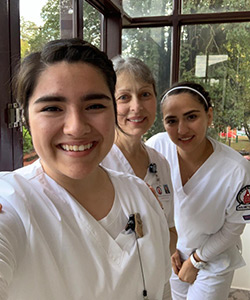 During their time abroad, the group from UIW engaged in clinical learning opportunities at the local hospital, Centro de Salud, and participated in health outreach programs to the indigenous Guarani communities. Dr. Tilton also presented her work on Care Planning and Care Coordination for the International Health Professions Workshop. In addition to these academic opportunities, UIW students also were able to explore historical sites and learn more about Paraguayan culture.
UIW students and Dr. Tilton highlighted the importance of exploring healthcare in other cultures. "It was a fulfilling experience to see how they (Paraguayan nurses) made the best out of the resources they had in order to take care of their patients," says  Alondra Guevra described her time studying nursing in Paraguay. "Their vocation as nurses was noticed miles away."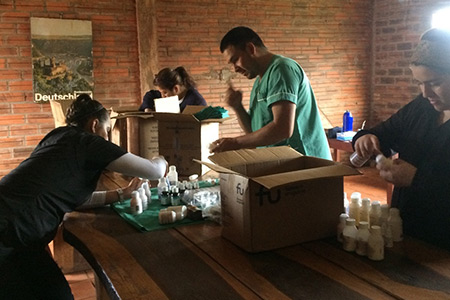 This Global Health Perspectives course in Paraguay allowed UIW students to learn nursing from other students and professors in other parts of the world. Although they may have different cultural practices from the Paraguayan students, UIW student, Jamie Gutierrez noted that their call to nursing remains the same. "Nursing is universal," Gutierrez shared in her final class. "It's a profession that cares for those who are sick and in need."
To find more information on the BSN study abroad program or the UIW Ila Faye Miller School of  Nursing and Health Professions.