UIW Brainpower Family Expands for the First Time in Decades
August 5, 2019
Groundbreaking Partnership Welcomes Two New Schools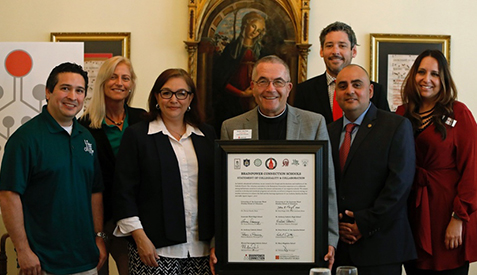 San Antonio – For the first time in 24 years, the University of the Incarnate Word (UIW) has welcomed two new Catholic schools, Blessed Sacrament Catholic School and St. Mary Magdalen School, to the Brainpower Connection. The schools were honored during a luncheon at the University on August 1, 2019 where there was a ceremonial signing of a new Statement of Collegiality and Collaboration as well as an unveiling of the new Brainpower Connection logo.
"We like to say we are creating pathways from Pre-K to Ph.D," says Br. John Paige, assistant dean at the UIW Dreeben School of Education. "But this is so much more. This provides a pathway for young people in their faith, their ministry and their lives. And we are just so blessed to be able to offer this opportunity to more of our Catholic school students."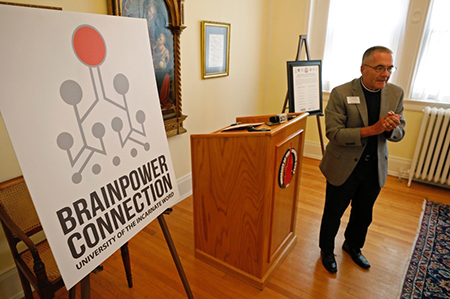 Established in 1989, the Brainpower Connection is an association of Catholic schools who collaborate to promote the mission and ministry of the Catholic education. Each school incorporates cooperative learning at lower grade levels, as well as access to accelerated programs from one level to the next. Students can benefit from curriculum alignment, integrated resources, Brainpower scholarships, reduced tuition and access to UIW's state-of-the-art facilities. Current members of the association include the University of the Incarnate Word, Incarnate Word High School, St. Anthony Catholic High School, St. Peter Prince of the Apostles School and St. Anthony Catholic School
St. Mary Magdalen Principal Dr. William Daily says he is already getting positive feedback from parents at the 77-year-old school. "This partnership illustrates our school's commitment to innovation and the cultivation of a college-bound culture. Our parents are very excited about the Brainpower Connection, because they know that it will enhance our school's dual-language programming as well as their children's education in faith, academics and service." 
"This is an exciting time." says Blessed Sacrament Catholic School Principal Michael Fierro. "Each school within the Brainpower Connection has a commitment to academic excellence and spiritual formation that mirror Blessed Sacrament. I am confident that our participation will only enhance our faith community."  Blessed Sacrament Catholic school opened its doors in 1958.
The Brainpower Connection commits itself to academic excellence grounded in the Catholic tradition and directed toward developing the whole person from pre-school to graduate school.