UIW Athletics announces program record APR score
November 12, 2019
Student-Athletes Succeeding off the Field in Record Numbers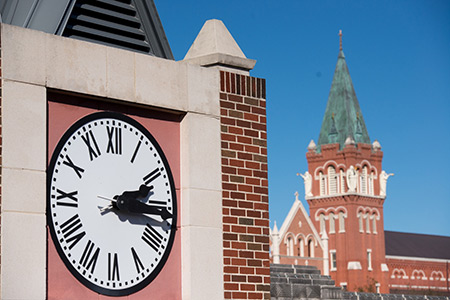 San Antonio, November 12, 2019 – The University of the Incarnate Word Athletics department had a program-record 13 sports, highlighted by the men's basketball program, achieve a perfect single-year Academic Progress Rate (APR) score, announced the department Monday. 20 Cardinal sports earned a combined single-year score of 991, which marked the second-highest institution score in the Southland Conference.
"I'm proud of the academic progress we've made thanks to the hard work of our student-athletes, coaches and academic partners across campus," said interim Director of Athletics Richard Duran. "As a department, we have made a commitment to promoting excellence in the classroom, and these APR scores are proof of that."
On the men's side, six teams had a perfect 1,000 APR: basketball, cross country, fencing, golf, soccer and tennis.
Men's basketball's academics improved dramatically from 2017-18 to 2018-19. In addition to improving their 839 APR from the 2017-18 academic year to a perfect 1,000 in 2018-19, the Cardinals had a remarkable 3.24 team GPA. This was an impressive increase from the previous year's team GPA (2.88) and was highlighted by 10 student-athletes with above a 3.00 GPA, four of which had above a 3.50 GPA.
"I'm very impressed with the fellas' lecture-hall prowess," said Men's Basketball Head Coach Carson Cunningham. "It's great to see them get acknowledgment for it because what they're doing is truly jaw-dropping - I mean, they have one of the best GPAs in men's division I basketball in the nation and the school's first-ever men's basketball 1000 APR.
"Practically speaking, I'm happy for them too - a recent study by the Economic Policy Institute shows that not getting a degree could cost a person $1 million in lifetime wages and the unemployment rate is way lower for those with college degrees than those who don't have them.
"And the fellas' classroom work shows that they embrace the model of sports in a higher education setting, which is really nice to know. In the process, they represent UIW well. That's awesome all the way around."
"Coach Cunningham has done a remarkable job turning the men's basketball APR situation around," added Senior Associate Director of Athletics/Academic Affairs/SWA Angela Lawson. "He jumped right in and educated himself about APR, asked a lot of questions, recruited student-athletes that would be successful both on the court and in the classroom, and then held his student-athletes accountable for their academic performance on a daily basis. The result is 1,000 on the 2018-19 APR."
The men's tennis team also has a multiyear rate of 1,000, while the men's cross country team followed with a 990. The men's golf program had a 988 multiyear rate.
On the women's side, seven Cardinal teams achieved a perfect 1,000 APR: basketball, cross country, fencing, golf, soccer, tennis and volleyball.
The women's cross country team has led the way on the women's side, also earning a perfect multiyear score, while volleyball is close behind with a 995 multiyear score. Women's fencing and women's soccer both registered 990 multiyear scores, while women's swimming had a 988. Women's tennis and women's track both had 985 multiyear scores as well.
The APR scores are pending final confirmation from the NCAA research staff. Final confirmation will be released in May.
For the most up to date information on UIW Athletics, visit uiwcardinals.com, follow the Cardinals on Twitter @UIWAthletics and like UIW Athletics on Facebook.