First Ever PharmCamp Seeks to Fill Pharmacy Need in Underserved Communities
June 26, 2019
Future Pharmacy Students from 17 High Schools in RGV Attend Unique UIW Summer Camp
San Antonio – The University of the Incarnate Word (UIW) Feik School of Pharmacy (FSOP) recently hosted the inaugural PharmCAMP 2019. Thirty students from 17 high schools across the Rio Grande Valley attended the four-day camp in mid-June.
The students were transported roundtrip from the RGV and housed in Joeris Residence Hall for three nights. Lectures surrounding topics such as hypertension and the opioid crisis and labs to make lip balm and slime were among the highlighted pharmacy activities.  Campers got to tour the Mays Cancer Center at the UT Health Science Center with Dr. Bradi Frei, FSOP professor of Pharmacy Practice, as well as the CVS Caremark mail order pharmacy facility located here in San Antonio.
"The response to our first PharmCAMP was simply outstanding," says Dr. Amy Diepenbrock, associate dean of student affairs at FSOP. "The biggest suggestion we received from the students is that the camp should be longer. I believe we were well aware that there is a need for a camp like this, but it is good to see there is an excitement among the students as well." Over 100 students applied for the 30 camper spots. Organizers are now working to find new ways to engage those who were unable to attend.
The PharmCAMP program was developed by the Office of Student Affairs at the Feik School of Pharmacy and is funded by a five-year, $175,000 CVS Health grant the FSOP received to create the "Strategic Pipeline Development Program." The program is designed to recruit, develop and mentor students to enter the field of pharmacy with a desire to serve the Hispanic community.
In addition to pharmacy experiences, campers received information on UIW and FSOP undergraduate, direct admit and Pharm.D. admissions. 
###UIW###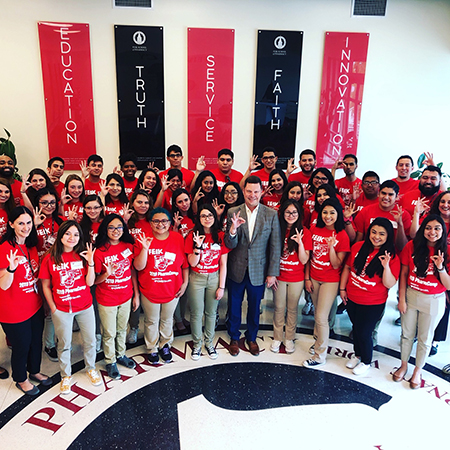 PHOTO CAPTION: Campers from the Rio Grande Valley join Dr. David Maize, dean at the UIW Feik School of Pharmacy, at the inaugural PharmCAMP 2019.
MEDIA CONTACT: Michael Valdes, media and public relations manager, Office of Communications & Brand Marketing, (210) 829-6001 or michael.valdes@uiwtx.edu