UIW Students win 15 awards & Best of Show at 2018 ADDY® Awards
May 3, 2019
UIW Students win 15 awards & Best of Show
at 2018 ADDY® Awards
San Antonio – University of the Incarnate Word (UIW) Graphic Design students stole the show at the 2018 ADDY® Awards hosted by the American Advertising Federation – San Antonio (AAF-SA) chapter on Saturday March 3 at the Sheraton Gunter Hotel. The students took home 15 of the 17 student awards, two AAF San Antonio scholarships and the Best of Show Honor.   
At the ceremony the Gold, Silver, and Bronze Awards were presented with those winning Student Gold & Silver Awards advancing to the District 10 Competition. UIW students won 5 Gold, 3 Silver, 4 Bronze, and 2 Special Judges Awards as well as the Best of Show. UIW Graphic Design students competed against design students from San Antonio College, UTSA, the Art Institute of San Antonio and Texas State University.
Two UIW students were awarded scholarships of $1500 and $500. The Best of Show winner claimed a $500 prize.
Student Gold ADDY Winners:  Tehua Cruz, Allison Reyes, Sofia Guajardo, Salman Ali and Preston Brown
 Student Silver ADDY Winners:  Sofia Guajardo, Thao Nguyen, Alfredo Morales, Allyson Arrogante and Mark David Rodriguez Pena
Student Bronze ADDY Winners:  Alejandra Lopez Mendez, Jessica Alvarez, Bailey Lowak, Emily Ruiz and Preston Brown
AAF San Antonio Scholarship Recipients: Margaret Grayson ($1500) and Thao Nguyen ($500)
Special Judges Awards:  Sofia Guajardo and Salman Ali
Best of Show:  Tehua Cruz ($500)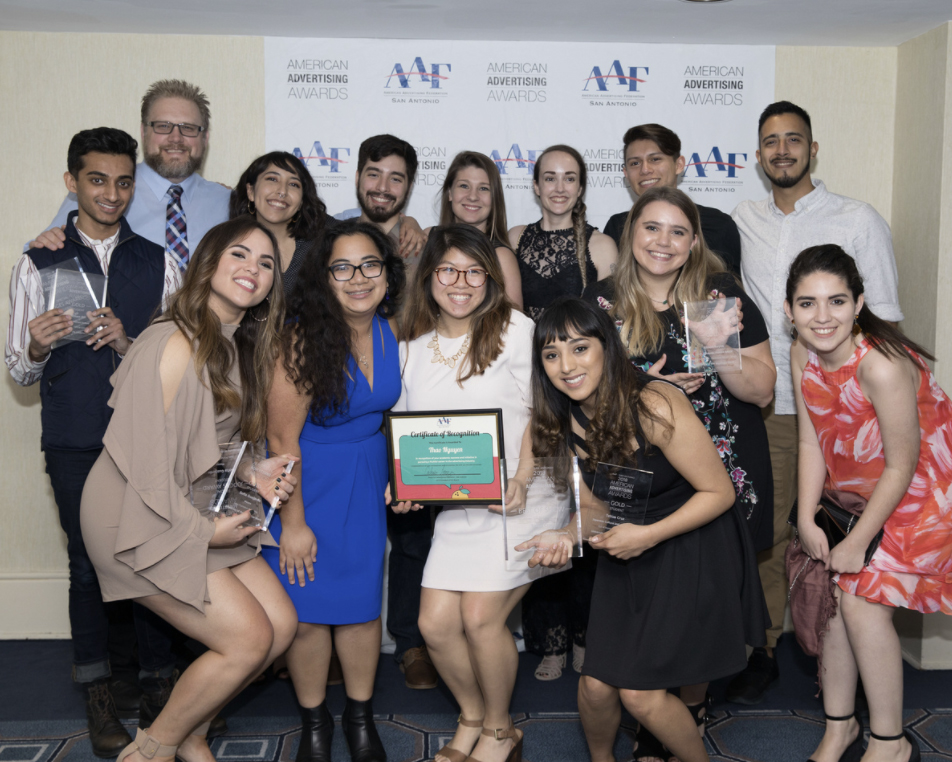 Photo caption:  Back row: Salman Ali, Professor Michael Clayton (faculty), Emily Ruiz, Preston Brown, Lindsay Crowell (part-time faculty), Margaret Grayson, Alfredo Morales, Mark David Rodriguez Pena.
Front row: Sofia Guajardo, Allyson Arrogante, Thao Nguyen, Tehua Cruz, Allison Reyes, Alejandra Lopez Mendez
###UIW###
CONTACT:    Margaret Garcia, associate director of communications & marketing, (210) 829-6001 or mlgarci2@uiwtx.edu