UIW celebrates the Fall Class of 2018
May 3, 2019
UIW celebrates the Fall Class of 2018
Students complete 44,584 hours of community service
San Antonio – On Saturday, Dec. 15, University of the Incarnate Word (UIW) President Dr. Thomas M. Evans conferred degrees to nearly 1,000 professional, doctoral, graduate and undergraduate students at the Fall Commencement Ceremony held at Freeman Coliseum. This graduating class completed a total of 44,584 hours of service in the community providing an economic impact totaling $1,100,779 in volunteer service hours. It is the UIW community's hope that the graduates will continue this legacy of service as concerned and enlightened citizens in our society.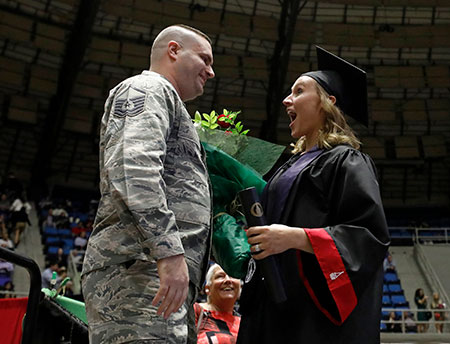 Among the many highlights of the day was the special appearance of Air Force MSgt. Nathan McNeil following his 13-month deployment. McNeil arrived in San Antonio early to surprise his wife, Heather Jo McNeil, as she crossed the stage to receive her Bachelor of Science degree from the UIW School of Professional Studies. The McNeil children, Cody, 17, Konnor, 16, Lia, 8, Joel, 6, and Regan, 2 were also on-hand to welcome their father home.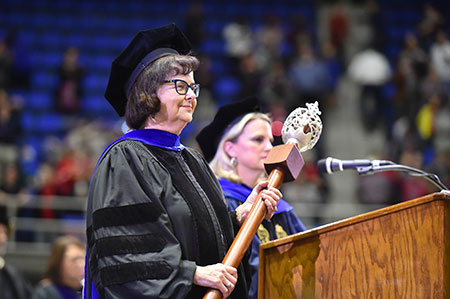 The 2018-2019 Moody Professor is Dr. Sharon Herbers, a professor in the Dreeben School of Education. Herbers came to UIW in 2005, drawn by University's Mission. While at UIW, Herbers has been named the UIW Piper Professor, and has received the Mission Continues Sr. Margaret Rose Palmer Award for Education, as well as a Legacy Teaching Award. The professorship, established in 1971 by the Moody Foundation, reflects the recipient's level of scholarship, teaching excellence and community service. Dr. Herbers delivered the Commencement address, which is traditionally considered the students' "last class."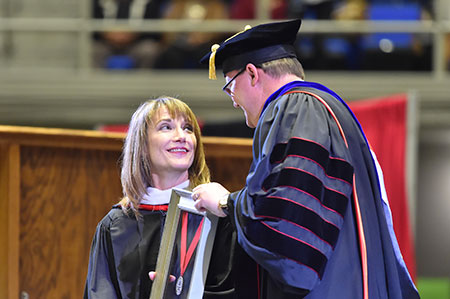 The 2018 Alumni of Distinction for Service in Mission recipient was Carol Zernial '89 MA. Zernial, a nationally recognized gerontologist, was named one of the nation's Top 50 Influencers in Aging for 2017. She holds a master's degree in social gerontology from the University of the Incarnate Word and has been involved in the field of aging for over 25 years. Zernial currently serves as executive director of the WellMed Charitable Foundation and vice president of social responsibility for WellMed Medical Management.
A Baccalaureate Mass was celebrated on Friday, Dec. 15 in the Alice P. McDermott Convocation Center on the UIW Broadway campus. The San Antonio Pipes and Drums performed their traditional processional and recessional music for both the Baccalaureate and Commencement ceremonies. Lena Gokelman, director of Campus and Liturgical Music, lead the musical direction for the 2018 Commencement.
###UIW###
CONTACT:    Margaret Garcia, director of Communications & Brand Marketing, (210) 829-6001, mlgarci2@uiwtx.edu