May 3, 2019
UIW Dept. of Art presents Shakespeare in Prague - Imagining the Bard in the Heart of Europe
San Antonio – The University of the Incarnate Word (UIW), Department of Art is proud to present Shakespeare in Prague: Imagining the Bard in the Heart of Europe. The exhibit will be on display from Monday, July 10 through Friday, Sept. 29, in the UIW Fine Arts Center Galleries located at 4301 Broadway, 78209. Gallery hours are 10 a.m. to 5 p.m. Monday through Friday.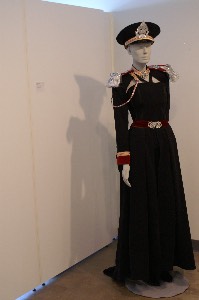 Exhibit curator, Dr. Joe Brandesky, will present a lecture at 5 p.m., Friday, Sept. 8 in Seddon Hall.  An opening reception will follow at 6 p.m.
The exhibition Shakespeare in Prague displays the history and depth of Shakespearean productions in central Europe and highlights the work of dozens of central European theater artists and designers. From the Machiavellian rise and fall of Richard III to the fantastical world of A Midsummer Night's Dream, this exhibition explores the myriad ways stage design in central Europe adapted the bard's plays into their world. The Columbus Museum of Art; The Ohio State University's College of Arts and Sciences Arts Initiative; the Arts and Theatre Institute, Prague, Czech Republic; and the National Museum, Prague, Czech Republic, organized the exhibition.
The 2016 celebration of the 400th anniversary of the death of William Shakespeare renewed global interest in England's most legendary wordsmith. For more than four hundred years, the plays and poetry of Shakespeare have inspired artists and audiences in both English and non-English speaking countries. Prague was one of the first cities outside of England to embrace Shakespeare's plays, which were performed during his lifetime in the Bohemian capital.
In the 20th century, Shakespeare remained a touchstone for central European theater. Under the Nazi and Communist grips on Czechoslovakia, the strengths, weaknesses, yearnings, and foibles expressed in Shakespeare's work allowed artists to express themselves, even under strict censorship. Shakespeare in Prague highlights the ways in which these plays were used by artists and designers in central Europe throughout the 20th and 21st centuries to explore the universal aspects of our shared humanity.
The works in Shakespeare in Prague illustrate the varied responses of Czech and Slovakian artists and designers. Original and reproduction costumes, set and costume renderings, maquettes and models of sets, photographs, prints, and ephemera are all included in the exhibition. Designs ranging from early 20th century modernism to surrealism to post-modern references to popular culture are represented. Shakespeare in Prague underscores the significant contributions of these Czech and Slovak artists and designers to world culture and to the continued proliferation of the work of William Shakespeare. 
Catalogue
The exhibition is accompanied by a catalogue of the same name, which includes essays by Guest Curator Joe Brandesky, Ph.D., as well as Czech theater experts Vlasta Koubska, Barbora Příhodová, and Pavel Drábek. Catalogues are available upon request.
###UIW###
CONTACT: Margaret Garcia, associate director communications and marketing, (210) 829-6001, mlgarci2@uiwtx.edu