Dr. Brian Wickstrom Named UIW Director of Athletics
May 3, 2019
Dr. Brian Wickstrom Named UIW Director of Athletics
San Antonio – The University of the Incarnate Word (UIW) has selected Dr. Brian Wickstrom as UIW's new director of athletics.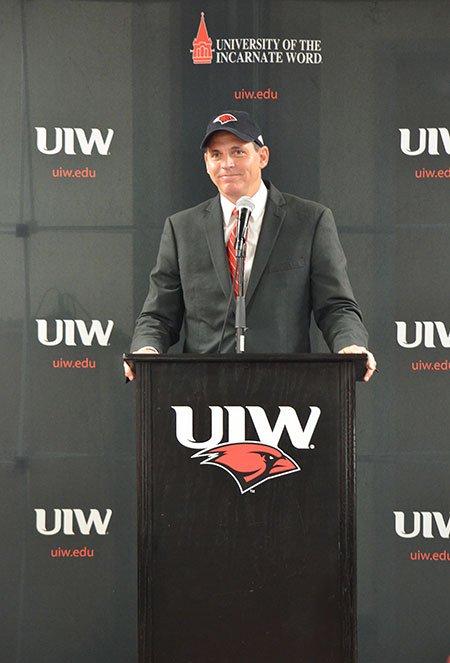 "In the University's continued pursuit of excellence in Division I Athletics, we are thrilled to welcome the talent and experience of Dr. Wickstrom to lead Cardinal Athletics," said Dr. David Jurenovich, UIW vice president for Enrollment Management and Student Services. "Brian's vision and fundraising ability will, no doubt, help catapult the UIW program and brand to a level of national prominence."
Wickstrom joins the Cardinals after spending the past four years as director of athletics at the University of Louisiana Monroe (ULM).
"I am blessed and honored to be selected as the next Director of Athletics at UIW," said Wickstrom. "I would like to thank Dr. Evans, Dr. Jurenovich and the search committee for selecting me to lead Cardinal Athletics to a new level as we deliver a top student-athlete experience and compete for championships."
Wickstrom is widely acknowledged as one of the nation's top fundraising athletic directors. He was recognized as a Top Athletic Director in the Group of Five by SB Nation's Underdog Dynasty and was named one of the Top 10 Fundraising ADs in College Athletics by CollegeAD. During his career, he has been personally responsible for securing more than $91 million in commitments.
"It is an unbelievable opportunity to work side by side with administrators who believe in the role of Division I intercollegiate athletics on a top-rated academic campus," he said.
Additionally, Wickstrom carries a strong history of facilitating a positive student-athlete experience and promoting engagement with the general student body. In December 2016, he was awarded the Excellence in Service to Students Award by the ULM student body.  The Excellence in Service to Students Award is given to a non-faculty member on the ULM campus that exemplifies leadership and mentorship and has demonstrated commitment to bettering the lives of students.
Wickstrom's career spans nearly 20 years in collegiate athletics. Prior to ULM, he served in a number of capacities with Ohio University, the University of Missouri, Santa Clara University, the University of Michigan, the University of Texas at El Paso and the University of California, Riverside.

Wickstrom was a track and field athlete at Kansas State University, where he earned a Bachelor's in Business Administration/Finance and a Master's in Business Administration/Management. He also has a Master's in Sports Administration from Ohio University and a Doctorate in Educational Leadership from Eastern Michigan University.

Wickstrom and his wife, Celina, have five children - sons, Vince, John Christian, David Grant and James, and daughter, Bricelle Leigh.
"My family and I are very excited about relocating to the San Antonio community as it has always been a priority for Celina and I to raise our children in a community that is family-oriented and full of history," said Wickstrom.
For the most up-to-date information on UIW Athletics visit uiwcardinals.com. Be sure to follow UIW Athletics on Twitter @UIWAthletics and like UIW Athletics on Facebook at UIW Athletics.

###UIW###
Contact:  Zachary Carlton, assistant athletic director of Sports Information
(210) 896-8694 or zcarlton@uiwtx.edu