2017 The Cutting Edge™ Fiesta® Fashion Show
May 3, 2019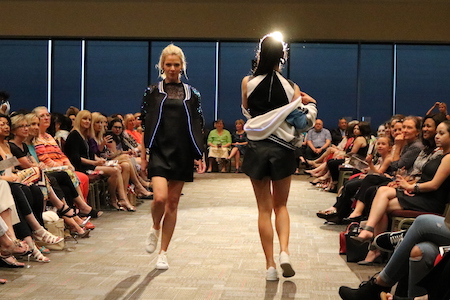 (San Antonio) The University of the Incarnate Word's (UIW) 37th presentation of the Cutting Edge™ Fiesta® Fashion Show took place on Wednesday, April 19, in front of a sold-out crowd at UIW's McCombs Center Rosenberg Skyroom.
Nearly 600 guests experienced the latest fashions created and presented by UIW's 2017 senior fashion designers Natasha Andrews, Natalia Hendrichs, Patrick J. Martinez, Valeria Reding, Felisa Santillan, Chyanne Ashlei Torres, Olivia Laurette Willms and Tiffany White. Their collections, judged by industry professionals were displayed in the annual show, a high-energy New York style runway show produced by students in the UIW's Fashion Show Production class.
UIW student designer Natalia Hendrichs took home the top prize of Best in Show with four perfect scores and first place in design and construction.  Designer Olivia Willms took second place in construction, designer Chyanne Torres took third place in both construction and design and Tiffany White took second place in the design category. Tiffany White was also the audience favorite earning the Pinkie People's Choice Award.
New aspects of this year's show included a fabulous display of ball gowns designed by juniors in the program and the introduction of a product development partnership with A'GACI. Thirteen seniors majoring in Fashion Product Development and Merchandising designed a capsule collection for A'GACI's 2017 spring line. Danielle Popp, A'GACI director of stores presented a scholarship to the winning students for their work.  
The Cutting Edge Fiesta® Fashion Show is an official Fiesta® event. Proceeds provide scholarships for UIW fashion management students. Since 2006, more than $50,000 in scholarships have been awarded to fashion management students. This year JoAnne Hargraves and Cepresia Ingram were the recipients of the Cutting Edge Endowed Scholarship. Each will receive $1,500. For more information, visit us online at www.cuttingedge-sa.com.
CONTACT: UIW Office of Communications & Marketing, PR@uiwtx.edu or (210) 829-6001.