UIW Opens Campus in Irapuato, Mexico
March 28, 2019
San Antonio – On Thursday, Aug. 20, more than 400 guests joined the University of the Incarnate Word (UIW) at a gala in Irapuato, Mexico to commemorate the opening of the university's second academic site in that country.
UIW's latest campus is located in the Guanajuato State, heartland of the well-known Bajío region. UIW is now the only American university with two campuses in Mexico, according to the Border Education Research Team at the State University of New York at Albany.
In 2016, UIW will add six bachelor's and two master's degree programs (these will be dual degrees accredited in Mexico and the U.S.). UIW will continue adding more degree programs in subsequent years.
"We're very happy to join the Irapuato family with our new campus," said UIW President Dr. Lou Agnese. "We look forward to many years of service to the Bajio region."
Dignitaries from San Antonio and Mexico joined Agnese and Sr. Teresa Maya, Congregational Leader of the Sisters of Charity of the Incarnate Word. Also in attendance were Sixto Zetina, Mayor of Irapuato; Miguel Marquez, Governor of Guanajuato; Senator Juan Carlos Romero Hicks, Mayor-elect of Irapuato Ricardo Ortiz; the Most Reverend José de Jesús Martínez Zepeda, Bishop of Irapuato; and Eusebio Vega, Secretary of Education. They joined Jose Antonio Lopez Verver, rector of Universidad Incarnate Word Campus Bajío and Marcos Fragoso, UIW vice president for International Affairs as well as members of the university's board of trustees and administration.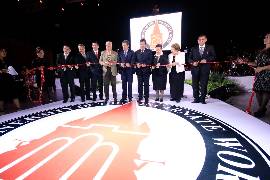 UIW began operating the campus June 1 in the facilities of Universidad Liceo Cervantino, which currently has 200 students in middle school; 150 in high school; and 1,100 students who are pursuing Associate's, Bachelor's and Master's degrees. UIW acquired two facilities: an historic property in downtown Irapuato and also a 44.5 acre site near the Pan American Highway.
The 20-mile radius around Universidad Liceo Cervantino is home to 1.2 million people, and the greater Bajio region has a population of 15.4 million. The region includes the States of Guanajuato, Querétaro, Michoacán, Aguascalientes and San Luis Potosí. Its annual GDP is about six percent.
Guanajuato is an important hub of the automobile industry, and includes companies such as General Motors, Mazda, Honda, Toyota, Pirelli, Volkswagen and Ford. Other important industrial sectors are food, textile and footwear manufacturing, featuring companies such as Conagra, Procter & Gamble, Nestlé, Nike and Florsheim.
-30-
CONTACT:    Margaret Garcia, associate director communications and marketing, (210) 829-6001, mlgarci2@uiwtx.edu