Strengthening Bonds with Colombia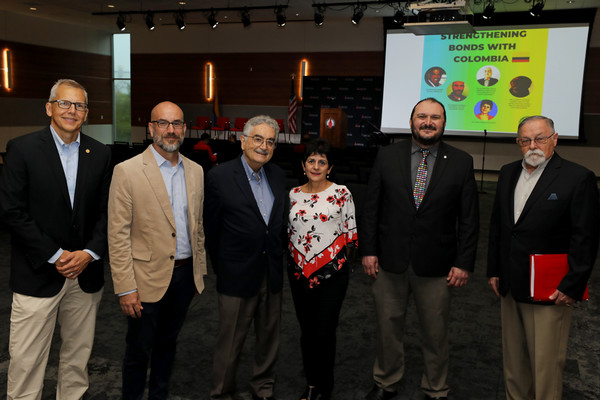 The Liza and Jack Lewis Center of the Americas and the World Affairs Council of San Antonio (WACOSA) hosted the panel discussion on the topic "Strengthening Bonds with Colombia" at 6 p.m., Tuesday, Aug. 22, in the Student Engagement Center Ballroom. Dr. Roberto Fajardo, Professor of UIW School of Osteopathic Medicine (SOM), serve as the moderator for the discussion with great panelists: Mr. Alberto Gonima, Ms. Aida Pérez, Dr. Alejandro Vélez, and San Antonio Councilman Manny Peláez.
WACOSA Executive Director Armen Babajanian kicked off the panel with welcoming remarks emphasizing WACOSA's commitment to bonds with various countries around the world. Each of the panelists spoke on different background topics about Colombia. Mr. Alberto Gonima, Consultant to the United Nations, World Health Organization (WHO), and The World Bank, started with the topic of Colombia in the Healthcare System, its evolution and results. Ms. Aida Pérez, Educator, continued with Colombian Education System and Structure touching on the mobility of Colombians to become international students in different parts of the world being the United States of America and Canada the first destinations for such students. Finally Dr. Alejandro Vélez, Emeritus Professor of Economics at St. Mary's University, spoke about the physical, socioeconomic and cultural aspects of Colombia.
Councilman Manny Peláez informed the attendees of the importance of the city of San Antonio's efforts to strengthen bonds with Colombian cities through diverse projects and dialogues. The panel discussion concluded with a time for questions and answers between the attendees and the panelists, touching on questions about the Colombian diaspora, security in the Colombian country, among other questions. 
With delicious Colombian appetizers and refreshing beverages provided by local restaurants, the panel discussion became another successful collaboration between the Lewis Center of the America and strategic partner, the World Affairs Council of San Antonio (WACOSA).

VIEW IMAGE GALLERY OF THE PANEL DISCUSSION