Lewis Center Headquarters at Founders Hall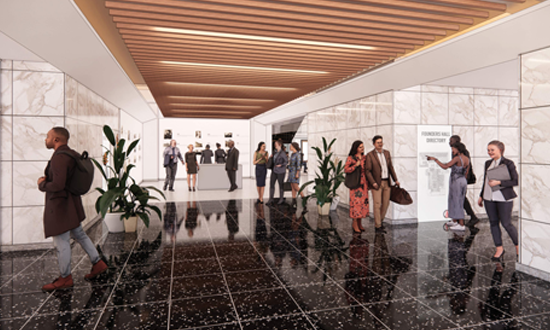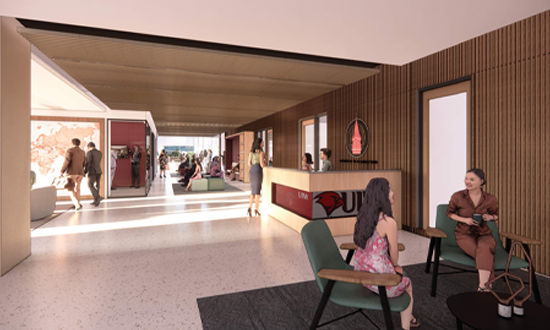 The planning for the UIW International Affairs and Lewis Center spaces at Founders Hall is advancing smoothly. A planning team from the UIW International Affairs division, along with Lewis Center Director, Dr. Rafael Hoyle, has been meeting regularly with representatives from Lake-Flato Architects, the UIW Facilities team, project manager AGCM, and Joeris Construction.
As planning advances, the Founders Hall vision statement, crafted in 2021 with the insight of our Board of Trustees, will continue serving as a directional beacon. Barring unexpected delays, the entire International Affairs division, including the Lewis Center, will be moving into Founders Hall in the summer of 2025, into Floors 1 and 2 of the south wing, with the primary access point being the building's original grand entry facing Broadway.
Among the noteworthy highlights of the design is a double-height event venue that will allow the Center to host symposia, conferences, workshops, fundraising galas, and community gatherings for up to 500 people. Flexible furniture will allow the space to be set up for different needs. Also worth mentioning are the multiple meeting rooms located strategically throughout the area and in close proximity to the large event venue. Furthermore, much attention was given to how the departments of the division interact with each other and with students.
The space will feel dynamic and inviting to all who enter it. To help achieve this we have located indoor and outdoor student lounge areas adjacent to the building's grand entry. The presence of students will help activate and give additional vibrancy to the space. And everyone who enters will be reminded, through the artwork and displays, about the history of our CCVI founders, our international origins, and the continued international essence of the entire UIW system.
The space will help project the international identity of UIW not only to neighboring communities here in San Antonio and Texas, but across the United States, Mexico and all nations of the Americas. Furthermore, our beautiful Lewis Center space will serve as an homage to the invaluable support and friendship that the Lewis family has for years shown to our University and to UIW's founders, the Sisters of Charity of the Incarnate Word.