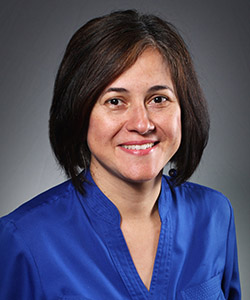 Dr. Alicia Rubio's cross-border experience has taught her that, as an educator, knowing a subject matter is not enough to reach students in the classroom; one must be aware of how their culture has shaped their beliefs, values, and perceptions about education.
In the classroom she likes to discuss how textbook material many times applies only to the United Sates. Her experience allows students to learn the intricacies of financial systems in different countries while maintaining an open an inquisitive mind.
Due to her interest in cultural perspectives, Dr. Rubio's research has focused on the influence of culture and values in the financial behavior of people around the globe with a special interest in Latin America. She has also studied culture's effects on savings behavior and financial planning among several cultural groups in the United States.
H-E-B School of Business and Administration