Dr. Alejandro Flores-Arocha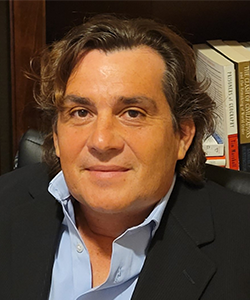 Dr. Alejandro Flores-Arocha joined UIW in the fall of 2022 as an Adjunct Professor of Environmental Science. A Systems Engineer, an Ecosystem Ecologist, and Environmental Manager by training, Dr Flores-Arocha is an Intellectual Explorer and a Place Analyst by heart. He has a life-long interest in the study of cities from any number of approaches. Although he keeps a practical orientation towards improving the vitality, resilience, and sustainability of cities, he is also active in advancing the theoretical understanding of Human settlements more generally.
After being an early observer and student of cities and metropolises like New Haven (CT), Baltimore (MD), and Los Angeles (CA) in the USA, Dr. Flores-Arocha has recently turned his attention to the study of settlements across the border in Mexico. These include his native city of Monterrey (NL) and especially his adoptive town of Cuatro Cienegas (Coah.), a truly unique place with great potential for research, education, and service to the UIW community.
Dr. Flores-Arocha has been an entrepreneur and manager of a handful of small businesses in South Texas for many years. He holds a B.S. degree from the Monterrey Institute of Technology, an M.S. degree from the University of California (Davis), and a Ph.D. degree from Yale University.
School of Mathematics, Science, and Engineering