Building a network and enhancing the academic experience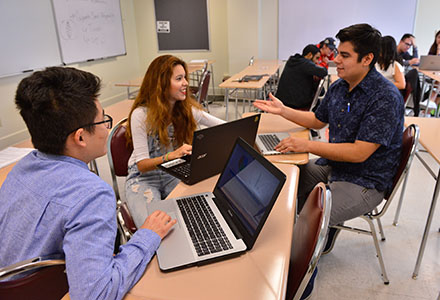 H-E-B School of Business and Administration students can take part in a wide range of activities and experiences outside of the classroom. Among the most rewarding are HEBSBA student organizations. These student-run groups not only supplement in-class learning but also help students build a network of peers and sharpen their marketing, communication, interpersonal and leadership skills -- all of which are essential to future business success.
Explore the organizations and learn how to get more involved at the HEBSBA.
---
Accounting Society
The Accounting Society provides students the opportunity to meet and connect with accounting professionals, UIW accounting faculty and fellow accounting students. The club also offers networking opportunities that give students a chance to apply for internships.
Learn more about the Accounting Society.
Business Club
The Business Club welcomes members of the UIW community, including undergraduate and graduate students from all fields of study, all faculty, alumni and representatives of the business community. The club also offers several career-building and community service events and opportunities throughout the year.
Learn more about the Business Club.
Collegiate Entrepreneurs' Organization
The Collegiate Entrepreneurs' Organization (CEO) fosters the entrepreneurial spirit by connecting UIW students to a global network of more than 16,000 members, as well as local business mentors. Partner with like-minded students while learning how to succeed as an entrepreneur.
Delta Mu Delta
Delta Mu Delta is a business honor society that recognizes and encourages academic excellence in students. Students are invited to join Delta Mu Delta based on their academic success. Members are honored each year at a ceremony.
ISACA Student Group
ISACA (Information Systems Audit and Control Association) focuses on enabling students to develop networks with industry professionals, enhance leadership skills, identify career paths and support other business-minded students.
Learn more about ISACA Student Group.
MARK
MARK – Marketing, Advertising, Research and Knowledge – was established by students with a passion for marketing thought and practice. It provides hands-on opportunities to practice marketing skills and positions students as valuable assets to employers.