Master of Business Administration
Advance Your Career With an MBA From UIW
The Master of Business Administration (MBA) program develops in each student an understanding of how the elements and processes of business organizations relate to one another and to the external environment. Degree requirements are designed to develop proficiency and confidence in all functional business areas, emphasizing ethical considerations and providing technical skills required for executive-level business positions.
The MBA program offers San Antonio professionals the opportunity to earn a graduate degree with convenient course offerings. Classes meet once a week and are available Monday through Thursday and on Saturdays. Continuous enrollment is possible as courses are offered throughout the year. Students typically complete the program within two to three years.
---
MBA Degree Offerings
Graduates in the MBA program may elect to concentrate in Finance, Marketing or Sport Management for a more specialized degree. The general MBA is an all-encompassing program for students who do not wish to specialize.
UIW MBA Alumni in the Workforce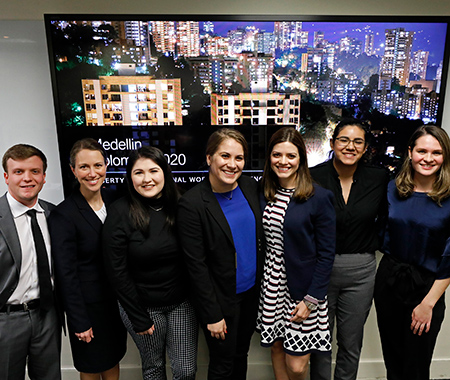 Master of Business Administration students have the opportunity to work directly with a business, organization or nonprofit through the Capstone experience. Taken in the final semester of the MBA program, the Capstone course connects students with business clients to work on a challenge or growth opportunity their client is facing.
In teams, students evaluate the client's project to develop solutions and strategies and present their work as recommendations for the business to apply to its operations. Through this process, students gain experience with the professional world and first-hand insights from business leaders. Students' work in the Capstone course is valuable to a professional portfolio.
Accreditation
The Master of Business Administration at the H-E-B School of Business and Administration is accredited nationally by The Accreditation Council for Business Schools and Programs. The University of the Incarnate Word is accredited regionally by the Southern Association of Colleges and Schools Commission on Colleges.