Pitch Competition | April 14, 2023
Develop a business plan for your startup idea.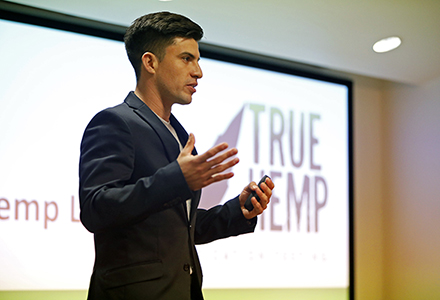 Do you have a great idea for a business? Is it your dream to work for yourself? Put your idea to the test in the Pitch Competition and compete for more than $1,000 in prize money.
The Collegiate Entrepreneurs' Organization (CEO) at UIW is excited to host the Pitch Competition this Spring. This competition is a chance for aspiring entrepreneurs to learn how to turn their startup dreams into reality. Register your idea for the competition, then work with faculty and business leaders to develop a business model.
Once you have hammered out the details of your pitch, you will present it to a panel of judges from the San Antonio business community on Friday, April 14. Prizes include:
$700 - First Place
$300 - Second Place
$150 - Third Place
The Pitch Competition is a great way to learn the first steps to starting a business. Building on the experience of the Pitch Competition, students are encouraged to continue developing their business plan and register for the Startup Challenge in the fall, which has a first prize of $10,000.
---
Registration
The deadline to register for the Pitch Competition is March 28, 2023. The Pitch Competition is open to all students at UIW.
These events may be photographed, videotaped or otherwise recorded. By attending these events, you grant UIW permission to use photographs, and/or audiovisual recordings in which you appear for archival, documentary, promotional advertising or other purposes. To request disability accommodation for this event, visit uiw.edu/ada.