Bachelor of Arts in Communication Arts
The Bachelor of Arts in Communication Arts at the School of Media and Design readies students for careers in a seemingly infinite number of industries and roles. With an emphasis on theory, hands-on learning, media fluency, production and ethics, the Communication Arts undergraduate degree program offers the 360-degree preparation students need to become successful, professional communicators.
---
Why Communication Arts?
A strong grasp of communication and its many forms of expression is a benefit to any professional. In turn, these professionals become assets to any profession.
As more brands, organizations, public figures and corporations turn to content creation, the need for strategic communicators with the ability to craft persuasive messages and content grows. Likewise, as traditional media continues to find new avenues to reach audiences, so does the need for professionals that possess technical proficiency, creativity, storytelling skills and a strong and ethical foundation in the media arts. These new media professionals help fulfill organizations' desire to find and engage audiences, and the public's need for news, information and content. Those well versed in the history and roots of Communication Arts and with an eye for innovation can help steer the industry into new areas.
---
Communication Arts Curriculum
The B.A. in Communication Arts is a 122-hour degree program that offers a unique blend of experience-based and theory-driven classes as well as more intensive study in one of three program studies. Students can expect rigorous, challenging and hands-on courses that move them to broaden their theoretical understanding, technical skills, creativity and ability to think critically.
A deep understanding of the fundamentals of human communication, its purposes and power, and the nature of media and mass communication today are critical aspects of the Communication Arts program. Throughout their study, students will find many courses designed to further develop their media fluency and their ability to produce content for multiple platforms.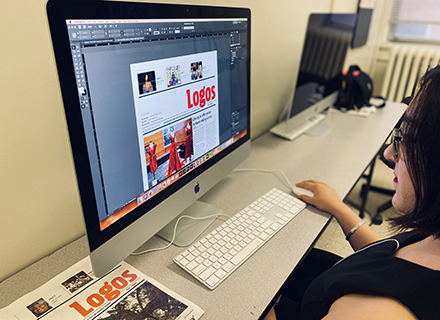 Media Production
Students pursuing careers in media as journalists, producers, on-air talent, production managers and more, have many opportunities to understand industry workings and hone their talents. Practicum courses take students into the production studios and newsrooms at KUIW, the University's internet radio station, UIWtv, the television station, and The Logos, the student-run newspaper. Through these courses, students examine all aspects of media production, from content creation, storytelling and news, to understanding audiences, to publications and studio production where they get their work published and on the air.
Students can select one of three programs of study:
---
Careers in Communication Arts
With seemingly infinite career opportunities, graduates of the B.A. in Communication Arts degree program have gone on to work as writers, producers, directors, editors, public relations specialists, videographers, filmmakers, broadcast journalists, advertising specialists, event planners, social media specialists, teachers, web specialists, bilingual journalists, convergent media specialists, digital strategists, among others.