MBA Student Earns Scholarship from Honors Business Fraternity, Delta Mu Delta
September 9, 2022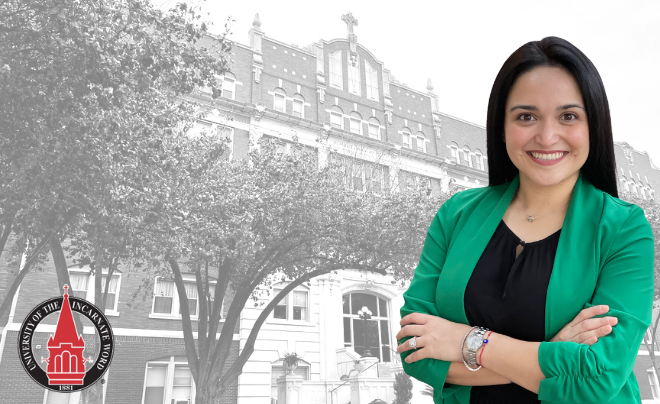 Alicia Caballero is soon to be a UIW alumna twice over, having earned a bachelor's degree in 2011 and currently in her final semester as an MBA student with the H-E-B School of Business and Administration. In the classroom, Caballero has stood out, being described as "a first-rate student and trusted leader in our academic community" by her former professor Dr. Trey Guinn, program director of Communication Arts in the School of Media and Design. Outside of the classroom, Caballero continued to impress those around her, frequently appearing as on-air talent for the University's TV and radio stations during her time as an undergraduate student. This drive for academic excellence continued into her MBA program where she became part of the Delta Mu Delta fraternity, Theta Gamma Chapter.
Delta Mu Delta, an international honor society, focuses on academic excellence in the field of business. UIW's chapter, Theta Gamma, was founded in 1997 and continues to uphold this tradition of excellence among its members. The motto of this society is "through knowledge, power" and in support of its members seeking this knowledge, Delta Mu Delta awards scholarships to students who demonstrate a commitment to excellence. Students must submit applications illustrating academic excellence, and have received recommendations from academic and community leaders attesting to their character, leadership, and dedication to their community. Caballero, who will present her work, Tejanos con Ganas at the National Fulbright Conference in October, easily illustrates her academic excellence and dedication to her community. The words used to describe her in letters of recommendation show how impactful she is as a current and future leader.
"Because she can be trusted with power, she is precisely the kind of person who we should be equipping with more knowledge," wrote Dr. Guinn about the pride and faith that Caballero inspires.
The demonstrated excellence in academics, the continued pursuit of applying her skills outside the classroom, and a profound dedication to her community are traits that helped her earn the second highest tier of scholarship of the Delta Mu Delta society this year. This scholarship will help Caballero in her continued pursuit of education, as she focuses on her final capstone project.
Caballero expressed gratitude, not only for the scholarship award, but for those at UIW who have helped her along her journey.
"The faculty at HEBSBA have helped me, and continue to help me, reach my full potential," she shared. "The faculty takes time to get to know me, encourage me, and provide me with many skills to be successful. Through their guidance, I serve as an MBA ambassador connecting with my peers, faculty, and future students; a scholar sharing research on a national level; and a student helping to identify strategic plans to improve a community business."