Student fund managers discuss investment strategy, goals for spring
March 17, 2021
New Investment Club to partner with Student Managed Fund
SAN ANTONIO – The Cardinals who operate the UIW Student Managed Fund are hard at work this spring developing their investment strategy and establishing plans for other projects.
The Student Managed Fund (SMF) is an experience-based learning opportunity in which students manage an investment portfolio in a hands-on environment.
The three fund managers for the Spring 2021 term are finance seniors Michael McElmeel and Iraida Aimee Galindo, as well as Noah Fielding, a junior accounting and finance major. As they research companies and investment opportunities, the focus of this semester is in part a continuation of the strategy established last year.
"My first semester we looked at growths companies, and then last semester and this semester we started looking at value companies," said McElmeel, who is now on his third semester as a fund manager. "Getting an overall mix of both of them is really interesting to see the different fundamentals that go into this. This semester we're looking into the energy sector, consumer staples and REITs [real estate investment trusts]."
In addition to growing their portfolio value, Fielding said the team is looking at other ways the Student Managed Fund can make an impact on campus.
"We are going to focus on a way to fund a scholarship for the SIE exam," Fielding said. "It's the first exam you need to take in the FINRA series of exams. If you want to be a financial analyst, those are the main exams you need to take after school."
FINRA is the organization responsible for safeguarding market integrity, which includes facilitating certification exams for finance professionals. The Securities Industry Essentials (SIE) exam is the first exam toward certification. The student fund managers are looking into ways to finance the cost of these and other exams for students through scholarships.
Student Managed Fund - Spring 2021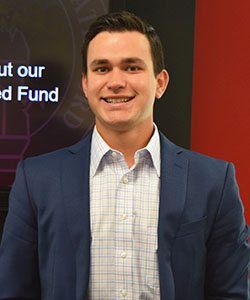 Michael McElmeel
Senior, BBA Finance
Third semester on Student Managed Fund
---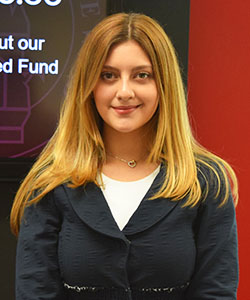 Iraida Aimee Galindo
Senior, BBA Finance
First semester on Student Managed Fund
---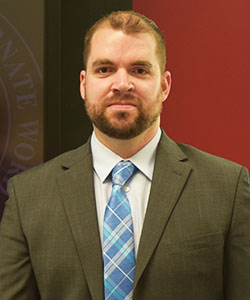 Noah Fielding
Junior, BBA Finance and Accounting
First semester on Student Managed Fund
Another focus of the Spring 2021 semester is the establishment of a new student organization at the University. The Investment Club will be a way for students to support the work of the Student Managed Fund. Investment Club members will have the opportunity to be trained to use the Bloomberg Terminal – a professional-level tool that compiles real-time data on financial markets and allows for in-depth research. With this knowledge, club members can assist with reports and other analysis in support of the Student Managed Fund.
Galindo said the course has taught her how to utilize the Bloomberg Terminal, helping her analyze and interpret data on the various financial markets.
"I think it's a great experience," Galindo said. "I've enjoyed learning so much about investing and the things you won't learn unless you actually do it … things you can't learn from a textbook."
Fielding and McElmeel also said working with the Bloomberg Terminal has been an invaluable experience that will help them in their careers.
"I've loved my experience so far. If someone is interested in the investment field and wants to get experience, they should join the Student Managed Fund. It's something I've been very thankful for during my time at UIW," McElmeel said.
Associate Professor of Finance Dr. Jose Moreno teaches the Student Managed Fund course. He said students have continued to produce impressive returns since the fund was established in 2016.
"This semester we have a great group of student managers. We have Michael, who has been here enough time to learn how everything works; Noah, who has experience doing research and analysis on companies; and Aimee, who has a lot of experience with student organizations. She has been helping us create and give form to the idea of the Investment Club," Dr. Moreno said.
Dr. Moreno said he hopes with the launch of the new Investment Club and other SMF initiatives, more students will take advantage of the hands-on experiences provided by the University.
"The students that have graduated from this class, most of them find a job or an internship in the finance industry. That gives us a lot of pride that everyone who participates in this course is really taking something from it," Dr. Moreno said.
If you are interested in joining the Investment Club or would like to learn more, please email Dr. Moreno at jfmoreno@uiwtx.edu.