Dr. Jeannie Scott named dean of HEBSBA
April 1, 2021
University taps established leadership to head program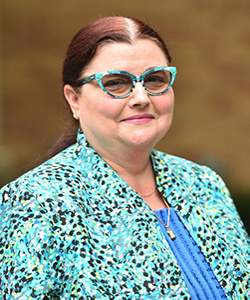 SAN ANTONIO – Dr. Jeannie Scott has been elevated to the position of dean at the H-E-B School of Business and Administration. She has served as the interim dean since June 2020.
Dr. Scott's academic leadership as a professor includes five years directing the MBA program and leading the school's internship program. Since joining UIW in 2003, she has filled various important roles including assistant dean, associate dean and MBA director. Dr. Scott has developed rich relationships with industries and organizations across the region that have become clients to the school's Capstone consulting courses.
She will continue her active collaboration on the Academic Deans Council and, together with her dean colleagues, help apply the Academic Master Plan to guide the academic future of the University of the Incarnate Word.
"Dr. Scott is a dedicated teacher and leader that lives the Mission of UIW with her students and fellow faculty," UIW Provost Dr. Barbara Aranda-Naranjo said. "We look forward to her leadership in continuing to build this successful program. HEBSBA plays a vital role in educating and creating the business leaders of tomorrow on an international scale and we know Dr. Scott will work to see that role grow and flourish."
"I am excited for this opportunity to engage with key stakeholders, faculty, students, alumni and employers to strategically create an ecosystem using the areas of teaching, research and practice to ensure the success of our programs and to shape outcomes for our students," Dr. Scott said. "Our faculty are here because they enjoy teaching and are very good at it. We must continue to focus on these strengths to find new ways to create connections with students. We need to make sure our research offers competitive advantages to companies and drives the evolution of our curriculum and informs the teaching of our faculty. Students in the HEBSBA deal with real-world business challenges through student organizations, participating in pitch competitions, listening to guest speakers, or working on applied projects in classes like our Capstone courses. Business schools need to excel equally in these three areas to remain effective."
The H-E-B School of Business and Administration is a premier, accredited business school in San Antonio that offers a rigorous curriculum, a dynamic student life, real-world application and opportunities to grow students' business acumen through challenges, special events and a career readiness program.
Students choose HEBSBA for its practical approach, emphasis on a global reach and international perspectives, opportunities to work with organizations, and to be taught by faculty considered leading experts in their fields.