Reagan High School student wins Jefferson Bank Investor Challenge
January 24, 2018
Diego Castañeda wins $500 prize with risk-taking strategy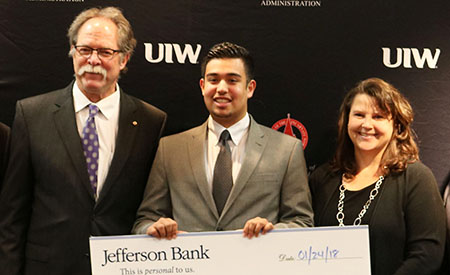 SAN ANTONIO – Hard work and a risk-taking strategy were the keys to victory for Ronald Reagan High School student Diego Castañeda, who won the 2017 Jefferson Bank Investor Challenge hosted by the H-E-B School of Business and Administration.
Castañeda was one of 13 students from San Antonio-area high schools who competed in the simulated investment competition, which began in June of 2017.
The students spent a week on the UIW campus to learn the basics of investing from HEBSBA finance faculty members Dr. Tim Griesdorn and Dr. Jose Moreno. After the week of classroom instruction, the students began trading online with a simulated portfolio of $250,000 until the competition ended in December.
When the dust settled, Castañeda sat firmly atop the leaderboard, having grown his initial investment to $288,763 for a return rate of 15.51 percent.
Castañeda said he invested in five solid, low-risk companies at the beginning of the competition, which gave him an early lead.
"After four months, I was in first place but my rate of return had slowed, so I decided to risk it. I bought (shares in) two high-risk companies and that took me straight to first place. Two weeks from the end of the competition, I sold it all and waited it out," he said.
His risk paid off. He was presented a $500 check during a ceremony Jan. 24, 2018, in UIW's Mabee Library Auditorium.
Hazel Davis, the vice president of compliance and community development at Jefferson Bank, which sponsors the challenge, was in attendance to hand Castañeda the check.
"Financial literacy is vital to the future success of students, and ultimately the success of our community. As a local, family-owned community bank, Jefferson Bank is tied to San Antonio and our surrounding communities. It is personal to us – their success is our own. Our goal with the Jefferson Bank Investor Challenge is to provide participants with a basic understanding of money management and investing for the future, in an engaging way," Jefferson Bank said in a statement.
The second-place finisher was Zoe Fleming of Clark High School, whose portfolio finished with a total value of $279,051 for a return rate of 11.62 percent.
Jose Tamez of Judson High School, who placed fourth, had the highest Sharpe ratio, meaning his portfolio was the most efficient in terms of risk and return tradeoff.
Juan Rios, also of Judson High School, placed fifth and was the most active trader of the challenge with 295 trades completed.
The eight high schools that sent students to compete were Business Careers, Clark, Johnson, Judson, MacArthur, Madison, Reagan and Wagner. The H-E-B School of Business and Administration congratulates all the students who competed in the 2017 Jefferson Bank Investor Challenge.