International student wins StockTrak Investor Challenge
January 24, 2018
Khurelbaatar Purev of Mongolia claims $500 award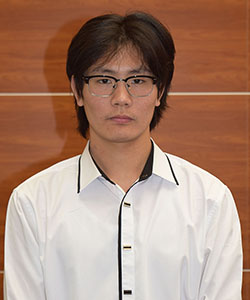 SAN ANTONIO – A senior finance major from Mongolia took first place in the UIW campus-wide StockTrak Investor Challenge, hosted by the H-E-B School of Business and Administration.
Khurelbaatar Purev was honored at an award ceremony Jan. 24, 2018, in the Mabee Library Auditorium.
Utilizing StockTrak's state-of-the-art simulation software, competitors are given a $1,000,000 virtual investment portfolio. The student who grows his or her starting portfolio the most during the three-month competition is the winner.
Competition director and finance faculty member Dr. Tim Griesdorn said 50 students competed during the fall semester.
Purev, who had a 30 percent return on investment during a 60-day period of the competition, took first place and a $500 prize. He plans to use the winnings to sit for his Chartered Financial Analyst (CFA) designation and to apply for graduate school. He was a member of the Student Managed Fund while at UIW.
Second Place
The second-place winner, management major Abdulaziz Towairqi, was also honored at the Jan. 24 ceremony. He used his knowledge and interest in technology companies to earn a $300 prize in the competition. Third-place and a $100 prize was awarded to Anoop Kurian, an economics major.
The H-E-B School of Business congratulates the competitors on their hard work and dedication to the StockTrak Investor Challenge.