HEBSBA faculty present at Austrian university conference
May 2, 2017
'Our students are not that different' 
KREMS, AUSTRIA – H-E-B School of Business and Administration faculty members Dr. Scott Roberts and Dr. Randall Griffiths traveled to Donau University in Krems, Austria, in March 2017 to present at the university's International Master Days conference.
Located in the small, beautiful wine town of Krems, the university is about an hour's train ride west of Vienna. The university has a modern campus, as well as historical one that dates back hundreds of years.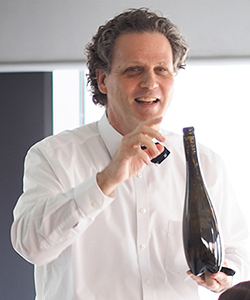 Dr. Roberts and Dr. Griffiths were selected after submitting presentation ideas, which were then selected from a pool of applicants by the dean and other faculty who have visited the university in Krems.
Dr. Roberts, MBA director and marketing faculty member, spoke to 32 students, including 15 from the local university, five from Oakland, California, and the rest from France, Prague, Brazil and other countries. He presented on the topic of how to cultivate authenticity in marketing and branding efforts.
"It's always interesting to get a room this diverse and see if you can get them to find or reflect on some common experience. Branding, in my case, is pretty universal, so I was able to use most of my material," Dr. Roberts said. "I also added a lot of regional interest to the presentation by showing how that part of the world looks to an outsider and how that is related to branding and authenticity. I am always revising these thoughts and this presentation so I bring back new insights into tourism and authenticity/branding efforts."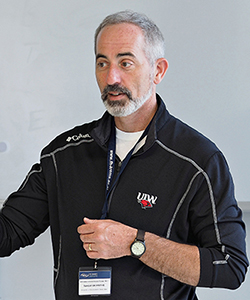 Dr. Griffiths, Sport Management coordinator, instructed students on how to conduct depth interviews with organizational stakeholders in order to create useful narratives that can be used for internal and external marketing and human resource purposes.
"The students were very professional and had experiences from all around Europe, which at first seemed to set them apart from our students here at UIW. As the session continued, though, I began to hear some familiar stories. Like, how they were graduate students in career transition – they had started one career and hated it – or how they were still not sure what they wanted to do straight from undergraduate. A quarter of the way around the world and our students are not that different," Griffiths said.
The H-E-B School of Business and Administration maintains a relationship with Donau University and sends one or two faculty to present at its annual conference.