HEBSBA alumna named Woman of the Year by SA Business Journal
August 25, 2017
Determination, community service define Teri Grubb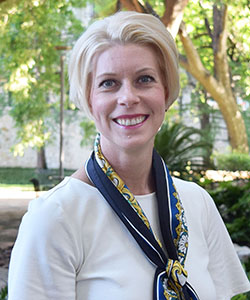 SAN ANTONIO – Teri Grubb is driven.
Her personal drive is what led her to become the chief operating officer and managing director at South Texas Money Management. It led her to earn a Master of Arts in Administration from the H-E-B School of Business and Administration in just over a year's time. And it's her drive that fuels her commitment to community service.
"I tease about wanting to rule the universe, but I really do want to rule the universe," Grubb said with a smile.
Her drive is also what led to her latest honor – being named the 2017 Woman of the Year by the San Antonio Business Journal.
"In a million years, I never would have pegged myself as woman of anything, really," she said, noting the number of deserving women leaders in the San Antonio community. "For me to have been honored in this way, it seems surreal at this point."
Grubb was presented the award Aug. 24 at the 2017 Women's Leadership Awards, hosted by the San Antonio Business Journal. She was one of 16 women recognized for the difference they make in their organizations and the community. Grubb was nominated by South Texas Money Management CEO Jeanie Wyatt and the CEO of Girl Scouts of Southwest Texas, Maj. General Angie Salinas, as well as a few other women-leaders in the community. She was selected from the field of 16 for the honor of Woman of the Year.
Her work in the community includes serving on the Board of Directors for the Girl Scouts of Southwest Texas, Hemisfair Conservancy, Centro San Antonio, as well as a committee for the Guide Dogs of Texas, Inc.
"I find it important to give back, because I think back, for myself, I grew up in a family who was very supportive of me. I think about my school, my university – UIW – they all served me," Grubb said of her devotion to the community. "San Antonio has been incredibly good to me, my family, my community and my schools. I want to now give back."
Grubb earned her MAA from the H-E-B School of Business and Administration, graduating with distinction in 2011. She earned her undergraduate degree from UIW in 2008. She says the mission of the university and the vibrance of its community played a vital role in her life and career.
"[At] UIW, they are very community-focused. You're required to have community service hours. And I think that really impacted me, because I started through that process becoming familiar with what it means to serve," Grubb said.
She said the small class sizes at UIW enabled her to have close-knit relationships with her classmates and professors, some of whom she considers lifelong mentors.
"I made some of the best friends in my master's degree program. And the professors, I think of Kevin LaFrance and Daniel Dominguez and Mark Teachout. They became friends, not just mentors," she said. "Even today I could pick up the phone and say, 'Hey, am I doing the right thing here? Can you help me out?' They are just phenomenal, and I think that speaks to UIW. It's just a community. We all help each other out."
"I just made up my mind ... and I did it. I just had to do it."
Grubb joined South Texas Money Management in 2011, the same year she graduated with her master's degree. It was also in 2011 that she donated one of her kidneys to Coy Akin, the husband of a high school classmate. When asked how she found the strength to undertake these challenges in the same year, she simply said, "I just had to, right?"
"I remember having these internal conversations. 'I'm donating the kidney. We're going to get Coy healthy. I'm going to start this next chapter of my career and I'm going to finish grad school,'" Grubb said. "I just made up my mind and said, 'This is what I'm going to do.' And I made a list; I'm a list maker. And I did it. I just had to do it."
Such selfless determination is part of what led to Grubb being named Woman of the Year. For students at UIW striving for similar personal and professional greatness, she says the most important thing to do, especially for women, is to get involved.
"Don't be afraid to speak up. Don't be afraid to ask questions. And, absolutely, get involved. Because getting involved increases your visibility, it increases your confidence, and I think it opens doors that you never imagined could be opened for you," Grubb said. "Get to know your professors. Get to know these people that are around you that are going through the same things that you're going through."
Grubb's career accomplishments are perhaps only outshined by her dedication to the San Antonio community.
"At UIW you're afforded a very unique opportunity in the sense that they are requiring you to get involved. But don't look at it as a requirement, because it will change your life," she said. "You're going to sit down one day, I promise, and you'll think, 'Wow. This is the best thing I ever did in my life.'"
The H-E-B School of Business and Administration is proud to count Teri Grubb among its alumni and congratulates her on the much-deserved honor of Woman of the Year.