Film Screening and Discussion: Backstreet to the American Dream
Tuesday, Sept. 20, 2022, 6-8 p.m., SEC Ballroom
In recognition of Hispanic Heritage Month, join us for a film screening of "Backstreet to the American Dream" followed by a Q&A with award-winning journalist, producer and director Patricia Nazario.
Hosted by The Beckendorf Family Center for Innovation and Global Entrepreneurship, Center for Teaching and Learning, Department of Communication Arts and the San Antonio Chapter of the Fulbright Association.
About the Documentary
This award-winning bilingual documentary takes a modern-day look at the classic American Dream through the quintessential 21st Century entrepreneurial endeavor, food trucks! Partially raised in a blue-collar neighborhood in Los Angeles, Nazario noticed mostly gourmet (with some traditional) trucks parked where Mexican-owned taco trucks were not commonly welcomed. When gourmet food trucks became a pop-culture phenomenon in 2008, Nazario noticed mostly gourmet and some traditional trucks parked where Mexican-owned taco trucks were not commonly welcomed. That observation provoked Nazario to get curious about negative stereotypes, social perceptions and racial injustice.
The film is executive produced by the 2012 Medal of Freedom recipient and civil rights activist Dolores Huerta.
About Patricia Nazario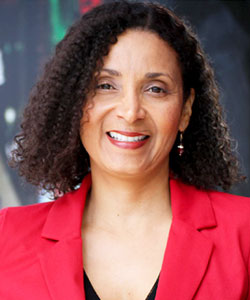 Nazario is an international journalist with 18 distinguished recognitions, including two Congressional Awards. Her career spans from hurricane coverage in Florida to New York during the 9/11 terrorist attacks to Argentina's severe financial, social and political crisis in 2001. Her outstanding coverage of Miami's Cuban community won South Florida's WLRN (NPR affiliate) its first award and prestigious statewide recognition.
Nazario is a UCLA alumna with a B.A. in Political Science. She moved to Buenos Aires in 2002 and and worked as a freelancer during Argentina's worst-ever social, economic and political crisis. Nazario became bilingual by living and traveling extensively across South America, and she produced a large body of print and radio work. Nazario holds a Master of Science degree from Columbia University Graduate School of Journalism. She was in class the morning of the terrorist attacks on September 11, 2001, and spent the next year reporting about its devastating effects on families in New York's East Harlem community.
More information
For more information or if you would like your class to attend, please email:
Follow the Film: IMDB | Facebook | Instagram | YouTube | Twitter | PatriciaNazario.com