HEBSBA Students Network at Career Fair
September 28, 2022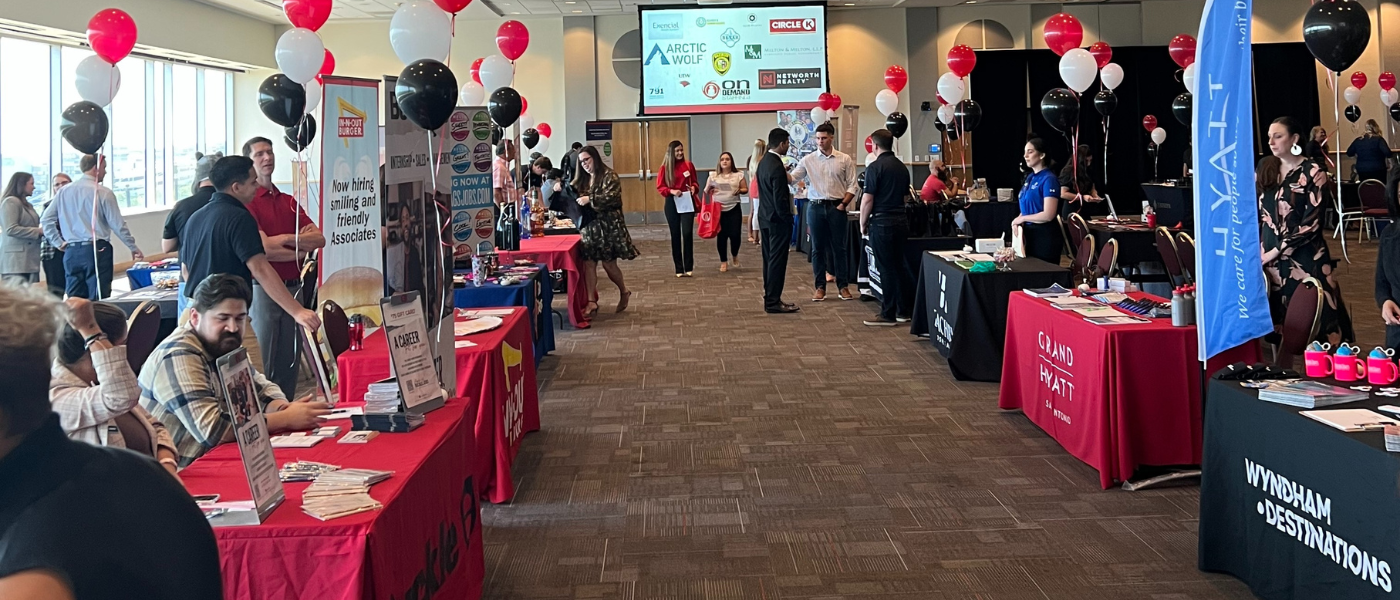 Once each semester, students in the H-E-B School of Business and Administration (HEBSBA) participate in the school's networking reception and career fair, co-hosted with Career Services in the McCombs Center Rosenberg Sky Room. According to Dr. Trish Driskill, associate professor of Accounting, the most recent fair was "extremely successful," with 164 HEBSBA students taking advantage of the opportunity to meet with 65 companies.
"Watching our UIW students network with employer partners, find their confidence, realize potential opportunities and leave with a sense of purpose can only speak to the success of this event," said Jessica Wilson, director of Career Services.
"I have been to three career fairs here on campus, and this past event was the best one," added senior Accounting major Guadalupe Garcia III. "Not only was it well organized, but it was full of companies engaging with students; they were not only willing to talk to us, but actively wanting students to apply and work for them."
According to Driskill, many students are hearing back from employers they met at the event to set up interviews. The firms – which included Gold sponsors Darden Restaurants and Morgan Stanley Wealth Management, and Silver sponsors Aspect Wealth Management, ATKG and UPS – also shared positive feedback, praising the professionalism of the students and the success of the event.
This career fair is hosted each semester, once in September and again in February. Students are strongly encouraged by faculty to participate, as they often stress the importance of networking and professional development in the classroom. The most important aspect of the career fair, according to Driskill, is the face-to-face interaction between employers and students.
"Our goal is to help students gain access to firms all over San Antonio," said Driskill. "Many students attend (this event) to network with business professionals and to learn more about different firms."
"The career fair was a successful event because it helped connect students with employers for positions and opportunities beyond the classroom," said Lauren Svacina, a junior Accounting major. "In addition, we develop skills when interacting with recruiters to assist in the job market after graduation."
For more information on the H-E-B School of Business and Administration or Career Services, visit their websites at the links below.
H-E-B School of Business and Administration