MIS students utilize technology to adapt to online learning
May 12, 2020
Students host online concerts, training
SAN ANTONIO – Students in Management Information Systems (MIS) courses at the H-E-B School of Business and Administration shifted their approach to learning midway through the spring 2020 semester when the COVID-19 pandemic prompted stay-at-home orders and online instruction became the norm at the University of the Incarnate Word.
The MIS program, coordinated by Dr. Ron Washington, combines business fundamentals with information systems learning. Put simply, Management Information Systems is just that – managing information through various systems.
After Spring Break when classes were forced off campus and online, many MIS students had to scrap their semester-long projects and start from scratch. Students in Dr. Washington's MIS 2321 Introduction to Information System classes were placed in groups to begin working on new projects. The new groups were tasked with developing a topic and tying it to information systems.
"We wanted to give MIS students the opportunity to engage with information systems tools during the COVID-19 quarantine," Dr. Washington said of the adapted approach to classes.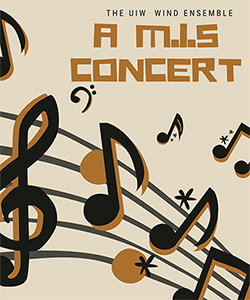 Madelyn De La Luz and Guadalupe Garcia, two students in the UIW Wind Ensemble, were paired together and used their background in music to put on a concert for their class via Zoom.
"An unconventional take to a normal band concert, our group worked hard to overcome the new virtual challenges we now had to face. Using the resources we had, we sought to teach our fellow classmates about the basic fundamentals of reading music all while comparing it to the data process," the students said.
Another group of students developed a training session on the use of Microsoft Teams through Cardinal Apps. The students – Christina Guidry, Samuel Egger, Kendall Owens and Santana Hernandez – presented their findings to their class through Zoom.
"This group project allowed us to collaborate and improve our skills with software that will benefit us in our years at UIW. Especially in light of the current pandemic, being able to share what we learned with fellow students and staff brings joy during such a difficult time," the group said.
For his semester project, Dillon Clemence created a blog using the web design tool Wix to journal life during the pandemic. Starting during Spring Break, Dillon's blogs cover his experiences as a full-time student and full-time employee at a San Antonio H-E-B grocery store. Each blog conveys the increasing severity of the pandemic and its impact on essential services like grocery stores.
One group of MIS students coordinated and hosted a 1970s-themed party on Zoom for their class to end the semester. They hosted a fundraiser for the San Antonio Food Bank to coincide with the party.
During the party, hosted by students Malik Fodah, Juan Gonzalez Iglesias, Daniela Rodela, Elizabeth Poole, Faustaina Ho and Sofia Carrera Pineyro, the class competed in a costume contest, dance competition and MIS trivia. They also tested their knowledge of 70s music. The students who hosted the party utilized several information management tools to plan and execute the event, including Zoom.
As classes continue online throughout the summer at UIW, students will continue to innovate and adapt to the challenges of distance learning.
Learn more about the MIS program at the H-E-B School of Business and Administration.