MBA student, small business owner wins $15,000 scholarship
May 29, 2020
Jairo Cruces receives scholarship from Texas Business Hall of Fame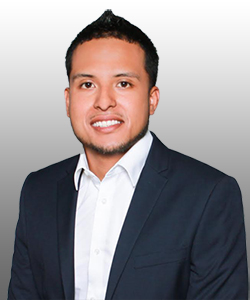 SAN ANTONIO – Entrepreneur and MBA student Jairo Cruces has been selected by the Texas Business Hall of Fame as the recipient of the 2020 H-E-B Scholarship worth $15,000.
The Texas Business Hall of Fame recognizes the professional contributions of business leaders in the state and the impact they have on their communities. The organization also invests in students through its Future Legends Scholar Award Program, which awards scholarships to 36 college students throughout the state annually. The H-E-B Scholarship is presented to one UIW student each year.
Cruces, who is currently pursuing his Master of Business Administration with a concentration in finance, earned his BBA in Management from the University of the Incarnate Word in 2017.
"It's a privilege and an honor to receive this award. For me, it's another milestone in my entrepreneurship journey," Cruces said. "Being recognized by a prestigious group of individuals who recognize entrepreneurs who are trying to make a difference in the community and in Texas."
Cruces is the owner and founder of Cruces Cedar Clearing in Ingram, Texas, near Kerrville. Established in 2018, his company works with businesses and landowners to help manage their properties through services like land clearing and tree trimming and removal. The company also repurposes cleared cedar trees in several ways, including using them as posts for fencing construction. Cruces hopes to use his new ties to the Texas Business Hall of Fame network to expand his business by securing funding to purchase machinery to produce and distribute mulch, which would ensure another use for the materials they clear from properties.
As a student at the H-E-B School of Business Administration, Cruces serves as the vice president of communication for the Collegiate Entrepreneurs' Organization (CEO) at UIW. The student-led organization meets regularly under the direction of faculty advisor Dr. Adesegun Oyedele to establish an entrepreneurial ecosystem at the University through mentor partnerships and startup business initiatives.
"As the advisor and coordinator of UIW's Pitch Competition, I had the privilege to work with Jairo and a group of highly motivated individuals recruited by Jairo to develop a business idea. Jairo's outstanding leadership allowed his team to reach the final stage of the Pitch Competition," Dr. Oyedele said. "Jairo's exceptional work ethic, organizational skills, analytical abilities and interpersonal communication skills distinguish him from his peers."
In his role as VP of communication for CEO, Cruces works closely with other students to help them cultivate their business ideas into reality. He tells students to take in as much advice from their mentors and peers as they can.
"Continue to strive and not give up. I actually applied for this scholarship last year and I wasn't the winner at that time. It gave me a reason to keep on pushing and establish myself more," Cruces said. "Because eventually their time will come, like it did for me."
Cruces places an emphasis on building connections and genuine relationships with his clients and the communities in which his company operates. Already an entrepreneur, he is determined to continue growing his business and giving back to his community and University.
The Texas Business Hall of Fame hosts an induction ceremony each fall to honor new inductees. Among others, the inductees for 2020 include Dallas Mavericks owner Mark Cuban and Randall Stephenson, the chairman and CEO of AT&T. Scholarship recipients are honored at a luncheon prior to the induction ceremony. Both events have been postponed until 2021 due to the coronavirus pandemic.