Accounting student, entrepreneur wins $15K scholarship
November 8, 2018
Victoria Presas receives award from Texas Business Hall of Fame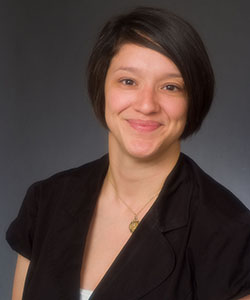 SAN ANTONIO – Senior accounting student Victoria Presas is the 2018 recipient of the H-E-B Scholarship, a $15,000 award given each year by the Texas Business Hall of Fame Foundation.
Presas received her scholarship Nov. 1, 2018, at the Texas Business Hall of Fame Induction Dinner in Houston, where Texas business legends such as Jim Crane and Jim "Mattress Mack" McIngvale were among this year's inductees.
The foundation is a nonprofit that recognizes the accomplishments of business leaders in the state and encourages the entrepreneurial spirit in the leaders of tomorrow through its generous scholarship program. Presas is one of just 36 students in the state to receive the award and the only student from the University of the Incarnate Word.
"It means everything to me. It's something that I value, because I've never been awarded a scholarship before," Presas said. "To be recognized in front of all these brilliant people was amazing."
Presas, a Navy veteran, is the owner and finance manager of B&A Logistics, LLC., which manufactures, sells and leases specially designed trailers for use in the transport of proppant for the oil field service industry. She, along with her husband, Bryan, launched the company in 2017 and named it after their 4-year-old twin daughters.
"It kind of all started with an idea on a napkin," Presas said. "My husband and I were noticing a lot of rollovers in Midland and Odessa, Texas. So, I sat down and I told him, 'There's got to be a better, safer way to transport proppant, or sand.'"
The pair presented their idea to an engineer in Mexico, who "took our idea and ran with it," Presas said. B&A Logistics, LLC. has since sold 45 trailers and opened a dealership in Sonora, Texas, where Presas is originally from. They also have a patent pending on the trailer design.
Presas said her small business has been inundated with calls from customers wanting their trailers. They have plans of expanding the business in Texas and later in Ohio, which is home to a large portion of their competition, Presas said.
Aside from the monetary benefit of the Texas Business Hall of Fame scholarship, Presas said perhaps the greatest advantage is the networking opportunities accompanying the award.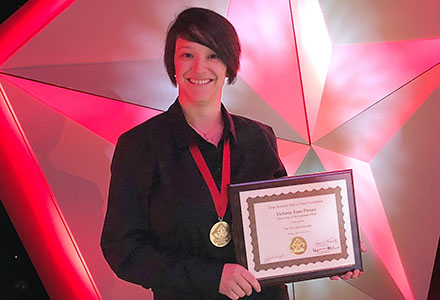 "I don't think the scholarship is just to help you through school. I think it's more of an ability to help you network with other entrepreneurs," Presas said. "Because now I can become an alumna and be part of the Texas Business Hall of Fame. Every time they have these meetings, I get to go to them and continue to network with these entrepreneurs. I think that's the biggest thing with the scholarship."
She credits her time in the Navy with helping she and her husband, who is also a Navy veteran, build a foundation for success as business owners.
"Being an entrepreneur, it just kind of comes naturally. Because being in the military, they guide you and you have to make these quick decisions," she said. "Now when a problem arises, we go into this military mindset and we're able to accomplish things quicker and easier."
The scholarship Presas received from the Texas Business Hall of Fame Foundation is given out each year to one UIW student. The application and interview process begin in the spring semester. She encourages business students and anyone with a drive to work for themselves to consider applying.
"I never in my life would have been able to meet Jim Crane, the owner of the Astros. I never would have been able to meet with Mattress Mack, but I did. And the Chao Family with the Westlake Chemical Corporation," Presas said. "I would have never gotten the opportunity to talk with them and ask them questions. Now I can take a lot of the things I've learned and make this a better company."
Presas plans to graduate in December 2019 with her BBA in Accounting from the H-E-B School of Business and Administration.