Marketing student lands summer internship at NASCAR
May 18, 2018
Claudia Zapata pursues passion for nonprofits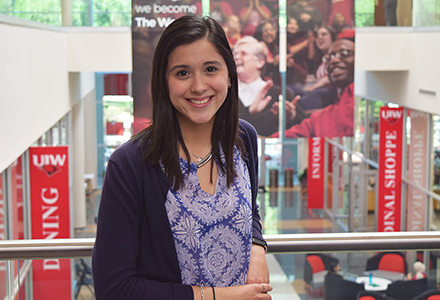 SAN ANTONIO – H-E-B School of Business and Administration marketing graduate Claudia Zapata is spending her summer interning with the NASCAR Foundation in Daytona, Florida.
She landed the competitive position as part of the NASCAR Diversity Internship Program, which offers a select group of students from diverse backgrounds a unique hands-on experience in the motorsports industry. Zapata is one of only 30 students in country to be selected.
The NASCAR Foundation supports the needs of children through its medical fund and other initiatives. Zapata started the 10-week paid program at the end of May and is assisting the foundation's social media and marketing teams.
The program prepares its interns for success through multiple networking opportunities, as well as through the work done during the program. Several interns from previous years have gone on to full-time leadership roles at NASCAR. 
Zapata's passion for nonprofit organizations helped to propel her through four rounds of interviews and earn one of the competitive spots. She credits her time at UIW for preparing her for the challenge.
"One of the things the NASCAR Foundation asked me was 'How do you feel about working in groups?' The first thing I thought of was my Capstone class. You learn how to communicate and be professional," Zapata said. "The courses give you the knowledge and the tools, but I truly believe it's the staff and the professors that really shape and challenge you. Learning how to be a leader has prepared me for this next chapter." 
Zapata's leadership was honed as co-founder of the UIW chapter of the American Marketing Association. Dr. Roberto Saldivar, the faculty advisor to AMA, said Zapata was the first student he contacted when starting the chapter. 
"Claudia was eager to jump in and started recruiting the other founding officers for the organization during the end of the fall 2017 semester," Dr. Saldivar said. "During the summer of 2017, Claudia and the other founding officers invested their time to complete all the requirements to get the organization officially recognized by UIW and AMA." 
A native of Monterrey, Mexico, Zapata moved with her family to the Texas town of McAllen, where she graduated No. 3 in her high school class. She quickly became involved at UIW, joining the Alpha Sigma Tau sorority and serving on the Dean's Student Advisory Board.
Zapata graduated from UIW in May 2018 in the top 10 percent of her class, earning a membership in the Kappa Gamma Pi National Catholic College Honor Society. She was inducted into the Delta Mu Delta Business Honor Society during the spring 2018 semester, as well as Lambda Pi Eta, the National Communication Association's honor society, for completing her communication minor with a 4.0 GPA. Zapata was also named the 2018 Outstanding Student in Marketing.