Dr. Michael McGuire retires after 30 years at UIW
May 6, 2018
Professor leaves behind legacy of service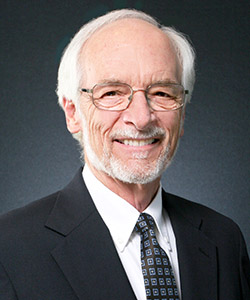 SAN ANTONIO – Campus was much smaller when Dr. Michael McGuire arrived at the University of the Incarnate Word in 1987, back when it was known as Incarnate Word College. He can be spotted most mornings walking his beloved Labrador Retriever, Bailey, through campus.
He recalls being the only economist in the business school when he started. He's taught economics to thousands of students since then, but the spring of 2018 will be his last semester at the chalkboard as the respected professor plans to retire after a long, fruitful career.
Dr. McGuire was born and raised in Oklahoma City, Oklahoma, where he graduated high school. He went on to study at Saint Louis University in Missouri and in 1977 earned his Ph.D. in Economics from Syracuse University in New York.
It was a trip to Central America as a student at Saint Louis University that fostered what would become the focus of his research and life's work: the public finance of satisfying basic needs.
"I went to Honduras one summer and lived with the poorest of the poor campesinos (farmers) out in the countryside. That really had a big influence on me," Dr. McGuire said. "I still remember Don Serapio and his family living in a little hut in the countryside and working with him in the fields. That was kind of a life changing event and got me interested in helping the Latin American people."
Pairing a desire to serve the people of Latin America with his strong faith in God, Dr. McGuire came to San Antonio and found a university with the same goal.
"I came to Incarnate Word because it is a Christian university, and the mission is a very exciting mission – to contribute to building the Kingdom of God on earth," he said. "Which for me means family. We start the Lord's prayer with 'Our Father.' We all have one Father. We're all brothers and sisters. We should have a system, a world, in which we are living together as brothers and sisters. The mission of a Christian university is to contribute to building that world, and I think it's wonderful to be able to participate in a university that does that."
Dr. McGuire believes business plays a vital role in society and building the Kingdom of God. It's these ideas he's brought to the classroom, placing an emphasis on the Christian call to support the poor. He's encouraged his students to fulfill this call through ethical business practices.
"For example, I teach Latin American economics. My focus is the basic needs approach to development. The basic needs approach is to satisfy the basic needs of very low-income people, enhancing their productivity, their employability and their income," Dr. McGuire said. "So, throughout my courses, I comment on this or that in respect to satisfying basic needs and trying to incorporate everyone into the social and economic system."
Faith in Action
Dr. McGuire has been a beacon of service beyond the classroom as he's faithfully fulfilled the Mission of the University of the Incarnate Word.
He spent two years in the early part of his teaching career in El Salvador on a grant from the Fulbright Association. He and his wife, Patience, who is a retired educator, began teaching at Central American University (UCA) during what was a tumultuous time in the country's history as the Salvadoran Civil War was waged.
During their first year at UCA, six Jesuit priests who lived and worked on campus were killed by Salvadoran Army soldiers for their support of a negotiated settlement to end the war. With the university facing an uncertain future, Dr. McGuire and his wife chose to stay a second year and continue their work, despite the continued threat of violence.
True to his passion for serving Latin America, Dr. McGuire returned every summer for the next 25 years to teach managerial economics at the invitation of UCA. The university paid for his travel and provided lodging, but the work was done on a volunteer basis.
He serves breakfast twice a month at San Antonio homeless outreach Haven for Hope and estimates more than 250 of his students have joined him over the years. Dr. McGuire has also been an active member of his parish's chapter of the Society of St. Vincent de Paul, a Catholic volunteer organization, for more than 20 years. He's been a member of the University Mission Committee at UIW since 1996 and has served on the University Service Learning Committee, as well.
His years of faithful service were recognized in 2005 when Dr. McGuire was awarded the CCVI Spirit Award by the Sisters of Charity of the Incarnate Word.
Dr. McGuire was also selected as the Moody Professor for the year 2000. The awarding of the Moody Professorship reflects a high level of scholarship, teaching excellence and community service attained by the recipient. This is the highest faculty honor bestowed by UIW.
Retirement
Dr. McGuire said he's looking forward to resting in retirement, then offered a long list of work he plans to do.
"I'm looking forward to doing some research. I'm going to be reading and studying, and I hope to do some writing," he said. "Right now, I'm working on an article, 'Teaching Christian Values Effectively in Business Schools.'"
For his research, Dr. McGuire said he will be drawing from his decades of experience at Central American University in El Salvador. 
"It was a very advanced university in the sense of having a social mission. And I'm using them as kind of a basis for deriving some recommendations for universities in the United States," he said.
He said he has some hobbies he's looking forward to, as well as working on their house, which he enjoys.
When asked which of his accomplishments he's most proud of, Dr. McGuire said his years spent in El Salvador and the book he wrote in 2010, "Decentralization for Satisfying Basic Needs: An Economic Guide for Policymakers," which was published in both English and Spanish.
Dr. McGuire said simply that he would like to be remembered by students and colleagues as someone who tried his best every day. He said the highlight of his time at UIW has been knowing and working with many wonderful students.
While much at UIW has changed since he arrived in 1987, Dr. McGuire said the same wonderful spirit has remained. He's confident that will continue after his retirement. That, and his daily walks with Bailey.
­
---
The H-E-B School of Business and Administration would like to thank Dr. Michael McGuire for his years of service to the school and its students, as well as to the community and the Kingdom of God. He joins his colleague Dr. Daniel Dominguez in retiring after the Spring 2018 semester. Click here to read about Dr. Dominguez's 15 years at UIW.